Cozy Danish Living: Bring Hygge into Your Home
Cozy Danish Living: Bring Hygge into Your Home
If you're looking for a way to make your living room feel more cozy and inviting, then incorporating the concept of hygge into your home decor might be the perfect solution. Hygge is a Danish term that refers to a lifestyle that emphasizes comfort, contentment, and quality time spent with loved ones.
It's a lifestyle that's all about enjoying the simple things in life, like curling up with a good book, sipping on a cup of hot chocolate, and surrounding yourself with soft blankets, natural materials, and soft lighting.
This post contains affiliate links to products. If you purchase any of these items from my post, I will receive a small commission from the merchant at no additional cost to you.
Disclosure: This post and images may include content partially written/created by AI
To create a hygge atmosphere in your living space, try adding some fairy lights, scented candles, and fluffy pillows to your decor. Opt for quality throw blankets and faux fur to create a cozy nook where you can relax and unwind. Stick to neutral colors and minimalist designs to create a warm and inviting atmosphere that feels like a safe space from the outside world. And don't forget to incorporate natural elements like fresh flowers, crackling fires, and hearty meals to create a feeling of contentment and well-being.
Embracing hygge in your daily life is a wonderful way to slow down and appreciate the good things. Whether you're spending time with friends and family, enjoying your favorite book, or simply savoring a warm cup of tea, hygge is all about finding joy in the present moment. With a few easy changes to your home decor, you can transform your living room into a hygge home that's perfect for the colder months and beyond.
Key Takeaways
Hygge is a Danish concept that emphasizes comfort, contentment, and quality time spent with loved ones.
To create a hygge atmosphere in your living space, incorporate natural materials, soft lighting, and cozy textures.
Embracing hygge in your daily life is a great way to slow down and appreciate the simple pleasures in life.
Understanding Hygge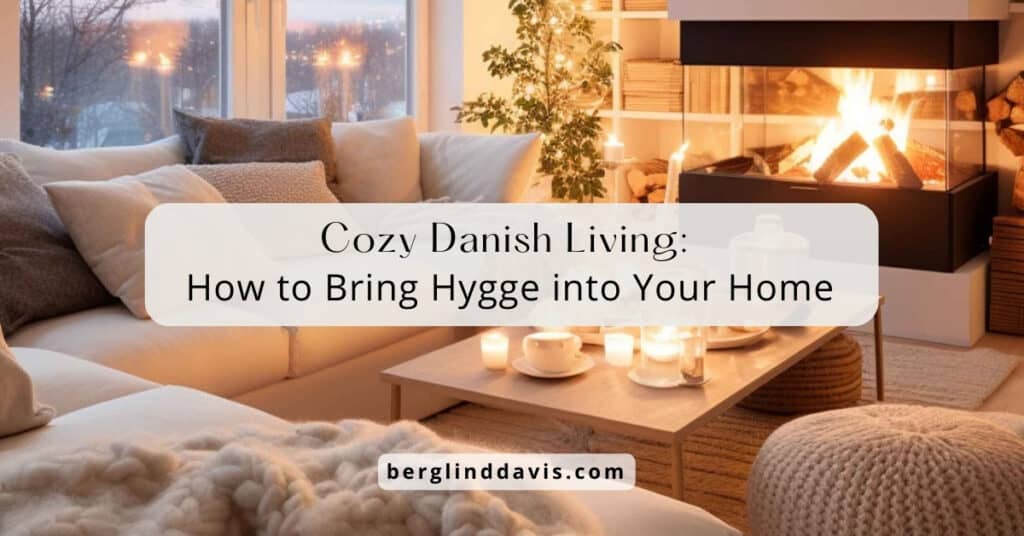 Hygge, known as "hoo-ga" in pronunciation, stands as a beloved Danish concept, weaving its enchanting spell across the hearts and minds of individuals spanning the globe. It embodies a way of life that nurtures an atmosphere of warmth and hospitality, where the pleasures of life's simplest joys are revered and celebrated with utmost fervor.
Origins of Hygge
Hygge is a Danish word that has been used since the 18th century. It is derived from the Norwegian word "hugga," which means "to comfort" or "to console." Hygge is deeply ingrained in Danish culture and is considered an essential part of their national identity. Denmark is consistently ranked as one of the happiest countries in the world, and hygge is believed to be one of the reasons for this. Hygge's origins showcase how it is fundamentally about human connection and community.
Concept of Hygge
The concept of hygge is a lifestyle that prioritizes creating a warm, cozy, and welcoming atmosphere. It emphasizes enjoying the simple moments in life. Hygge is about slowing down, being present, and enjoying time with loved ones. It's not about material possessions or extravagance; it's about finding joy in life's simple pleasures.
The hygge lifestyle focuses on certain principles to cultivate happiness and coziness. These include:
Community – Spending quality time with family and friends
Presence – Being mindful, slowing down, and appreciating the moment
Comfort – Surrounding yourself with soft textures, warm lighting, and natural materials
Pleasure – Enjoying food, music, books, and activities that bring you joy
Creating Hygge
There are several elements that are essential for creating a hygge atmosphere. These include:
Soft, indirect lighting from sources like candles, string lights, and lamps
Incorporating natural materials like wool, cotton, wood, and plants
Cozy furniture with pillows, throws, and soft blankets
Soothing scents from candles, essential oils, or fresh flowers
Warm drinks like coffee, tea, and hot chocolate
In summary, hygge is a Danish lifestyle concept that focuses on joy, simplicity, and community by creating a warm and cozy home environment.
Frequently Asked Questions
Hygge in Living Spaces
Hygge is a Danish concept that emphasizes coziness, contentment, and quality time with loved ones. It is a lifestyle that focuses on simple pleasures and creates a welcoming home atmosphere. Here are tips for incorporating hygge into different living spaces.
Hygge in the Living Room
The living room is a perfect place to create a cozy hygge haven. Incorporate:
– Soft blankets and pillows on sofas and chairs
– Flickering candles or string lights for warm lighting
– Natural elements like houseplants, flowers, and wooden decor
– Cozy seating nooks for snuggling up with a book
– A fireplace or firewood, if available
Having a relaxed, uncluttered environment turns the living room into a place of comfort and tranquility.
Hygge in the Kitchen
The kitchen is the heart of the home, so infuse it with hygge elements like:
– White, neutral, or light blue color palette
– Wooden cutting boards, utensils, and tableware
– Mason jar glasses and vases for fresh flowers
– Textiles like tea towels, rugs, and curtains in natural materials
– A dining nook with a round table for intimate meals together
The kitchen should evoke the feeling of a cozy cottage.
Hygge in the Bedroom
In the bedroom, create a relaxing environment with:
– Soft, high-quality bed linens in natural fabrics
– Plush pillows and blankets to bundle up in
– Candles or string lights surrounding the bed
– A comfortable reading chair with an ottoman
– Natural wood nightstands and dressers
– Minimal clutter and soothing colors on walls
The bedroom should be a quiet, screen-free space for resting and recharging.
Hygge in the Bathroom
To bring hygge into the bathroom:
– Incorporate wood accents and neutral colors
– Add fluffy towels and rugs underfoot
– Use calming essential oils or light candles
– Create a spa-like space for long soaks in the tub
– Display greenery like succulents or decorative vines
– Provide cozy bathrobes and slippers
The bathroom becomes a relaxing oasis with these simple hygge-inspired touches.
Implementing hygge elements throughout living areas transforms the home into a welcoming, low-stress environment. The focus on simplicity and natural materials cultivates comfort and tranquility inside while fostering close relationships.
Creating a Hygge Atmosphere
If you're looking to create a cozy and inviting living space, incorporating the hygge concept into your home decor is a great way to start. Hygge is a Danish word that describes a feeling of contentment, warmth, and coziness. It's a way of life that emphasizes quality time with good people, enjoying the simple things in life, and finding joy in the present moment. Here are a few tips for creating a hygge atmosphere in your living room.
Cozy Lighting
Lighting is key for creating a hygge environment. Use:
– Candles – group candles together for a cohesive look
– String lights – wrap them around shelves, cover art, or drape across the mantle
– Table lamps – place warm bulb lamps beside seating areas for an intimate glow
– Fireplace – the flickering light from a fireplace is quintessential hygge
Aim for soft, diffuse lighting that feels relaxing and inviting. Dimmers on overhead lights can help control brightness.
Warm & Textured Decor
Enhance your space with tactile, natural materials for a cozy ambiance. Consider incorporating:
Wooden furniture and accessories.
Soft pillows and blankets, especially chunky knits.
Sheepskins, faux fur throws, and layered rugs for added floor comfort.
Woven baskets, textiles, and fresh greenery such as houseplants or flowers.
Velvety, linen, or cotton textures for ultimate comfort.
Wool and Cotton Elements:
For softness and sensory satisfaction, use natural fibers like wool and cotton. They are perfect for:
Chunky woven throws and blankets.
Knitted or crocheted pillows and cushions.
Wool-blended or braided area rugs.
Curtains, tablecloths, and other linens.
Hygge Materials and Textures
When it comes to creating a cozy and welcoming living space, the materials and textures you choose can make all the difference. In the concept of hygge, natural materials, and soft textures are essential for creating a warm and inviting atmosphere. Here are some tips for incorporating hygge materials and textures into your living room decor.
Cozy Living Activities
Searching for ways to infuse your home with a sense of coziness? Here are several activities that can help you cultivate a warm and welcoming ambiance.
Immersive Reading
​There's nothing quite like diving into a captivating book in a snug reading corner.
Select a novel you've been eager to explore or consider delving into, "The Little Book of Hygge" by Meik Wiking for insights into the Danish art of coziness.
Accompany your reading with a warm blanket, a steaming cup of cocoa or tea, and recline in your cherished chair for a tranquil reading session.
Friendly Board Games
​Spending quality moments with loved ones can be enhanced with the simple pleasure of board games. Opt for games that are straightforward and quick to set up, such as Scrabble or Monopoly. Illuminate the room with candles and dimmed lights to evoke a serene environment. Accompany the fun with comforting snacks to keep spirits high.
Artisan Crafts
​The joy of crafting, be it knitting or pottery, is a beautiful way to embrace the spirit of coziness. Crafting provides a tactile connection, allowing you to immerse yourself in the act of creation, truly embodying the essence of a cozy lifestyle.
Comforting Meals
​As the weather cools, the allure of warm, hearty meals shared with loved ones becomes irresistible. Whip up your most-loved comfort dishes, perhaps a rich chili or a savory soup, pairing them with fresh bread or crackers. Adorn the dining space with natural elements and perhaps some fresh flowers, amplifying the warmth with lit candles or a gentle fireplace. Complement the meal with beverages like cocoa or herbal tea to enhance the experience.
Incorporating hygge into your surroundings crafts an environment that radiates warmth and relaxation. Natural elements, soothing textures, and gentle lights transform spaces into snug sanctuaries ideal for rejuvenation and cherished moments.
Whether you're engrossed in a book, cocooned in a blanket, or relishing a meal with loved ones, hygge underscores the significance of the present and the joys of simplicity. By weaving hygge into your daily rhythm, you nurture a sense of contentment and fulfillment.
From the gentle flicker of candles to the soft embrace of cushions, myriad ways exist to cultivate an environment of relaxation and awareness. Be it a communal game evening or a solitary tea moment, hygge is about crafting spaces that feel undeniably homely.