Mid-century modern color palette and design trends.
Mid-Century Modern Color Palette and Design Trends.
Mid-century modern design, often referred to as "mid-mod," is a classic style that has witnessed a remarkable resurgence in popularity in recent years. Embodying the perfect blend of sharp, simple lines with geometric patterns, the charm of this interior style lies in its ability to seamlessly merge the past and present.
Its characteristic bold colors, derived from a distinctive Mid-century modern color palette, pop with vibrancy, contrasting harmoniously with the use of earthy, natural materials.
Its innate ability to weave nostalgia into contemporary settings is particularly enthralling about the mid-mod aesthetic. It's as if you're taking a step back in time, yet with the comfort of modern design sensibilities. This style is about reminiscing and adapting the golden days to fit today's urban lifestyles.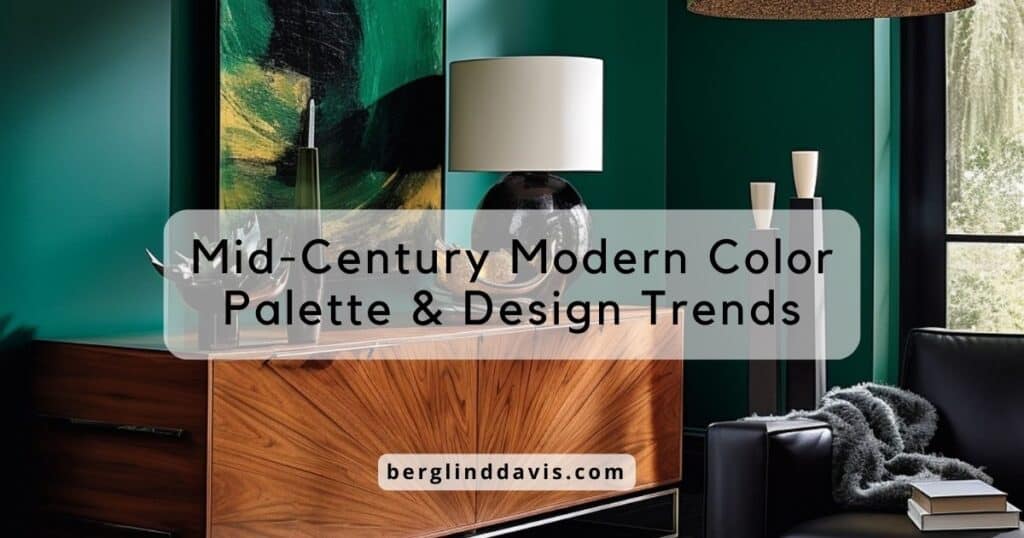 This post contains affiliate links to products. If you purchase any of these items from my post, I will receive a small commission from the merchant at no additional cost to you.
Disclosure: This post and images may include content partially written/created by AI
One of the reasons behind its widespread appeal is its versatility. Whether you're revamping a downtown apartment or decorating a new suburban home, the mid-century modern touch is like a design chameleon—it fits in everywhere. The design is ageless, invoking feelings of nostalgia in some while presenting a trendy, stylish decor option for others.
A quick tip for those diving into this design trend: while it's tempting to go all out with bold colors, the balance brings the design to life. For instance, pairing a bold turquoise or mustard with neutral tones can create a striking yet harmonious ambiance. And if you're seeking inspiration, look no further than classic mid-mod designs. They not only serve as a blueprint but also offer endless opportunities for personalization.
Mid-century modern design isn't just a trend—it's a timeless statement. As you embark on your decorating journey, let the color palette and design trends be your guide, helping you curate spaces that resonate with charm, elegance, and a touch of whimsy.
FAQs About the Mid-Century Aesthetic
Characteristics of Mid-Century Modern Design
Mid-century modern has several distinguishing characteristics that set it apart from other decor styles:
Simplicity of Form
Furniture and architecture in mid-century modern style is stripped down to its most essential, functional elements. You'll see a lot of clean, straight lines and minimal ornamentation. This polished simplicity lends mid-mod decor a very sleek, modern feel.
Emphasis on Geometry
The mid-century modern look relies heavily on circles, triangles, diamonds, and other geometric shapes. This motif echoed the space age obsession with spheres and angularity.
It's common to see circular patterns on fabrics, diamond motifs on walls, and triangular sculptural light fixtures.
Bold Use of Color
While mid-century modern interiors tend to use neutral wall colors like white, gray, and beige as a backdrop, the style embraces bright, vivid pops of primary colors and pastels for accent pieces.
Think sunshine yellow, grass green, cherry red, turquoise blue, and bubblegum pink. Vibrant colors were employed to add a sense of cheerfulness.
The mid-century modern look relies heavily on circles, triangles, diamonds, and other geometric shapes. This motif echoed the space age obsession with spheres and angularity.
It's common to see circular patterns on fabrics, diamond motifs on walls, and triangular sculptural light fixtures.
Bold Use of Color
While mid-century modern interiors tend to use neutral wall colors like white, gray, and beige as a backdrop, the style embraces bright, vivid pops of primary colors and pastels for accent pieces. Think sunshine yellow, grass green, cherry red, turquoise blue, and bubblegum pink. Vibrant colors were employed to add a sense of cheerfulness.
Spotlight on Natural Elements
Natural wood finishes, indoor plants, and ample sunlight are hallmarks of mid-century decor.
Floor-to-ceiling windows, glass walls, and double-height ceilings were popular for blurring the line between indoor and outdoor space.
The mid-mod look celebrates natural materials and a light, airy ambiance.
Blending Old and New
The mid-century modern design emerged as a melding of natural materials like wood and industrial elements like plastic laminate, plywood, aluminum, and wire. This created novel textures and allowed the mass production of furniture with clean, curved lines. The effect feels both organic and space-age.
Midcentury modern Color Palette ideas:
Let's explore some of the most popular paint colors used in the midcentury modern movement
Neutral Backdrops: Light, muted wall colors create an airy, minimalist base for the room. Think glossy whites, warm beiges, various greys from charcoal to dove, and natural wood stains. Black accents can make a dramatic statement.
Vibrant Accents: Use a pop of color to punch up the neutral backdrop with vibrant pops of color via furniture, art, accessories, and accent walls. Golden yellow, deep green, deep blue, cherry red, and burnt orange were trendy mid-century hues.
Different color combinations introduce liveliness and retro charm.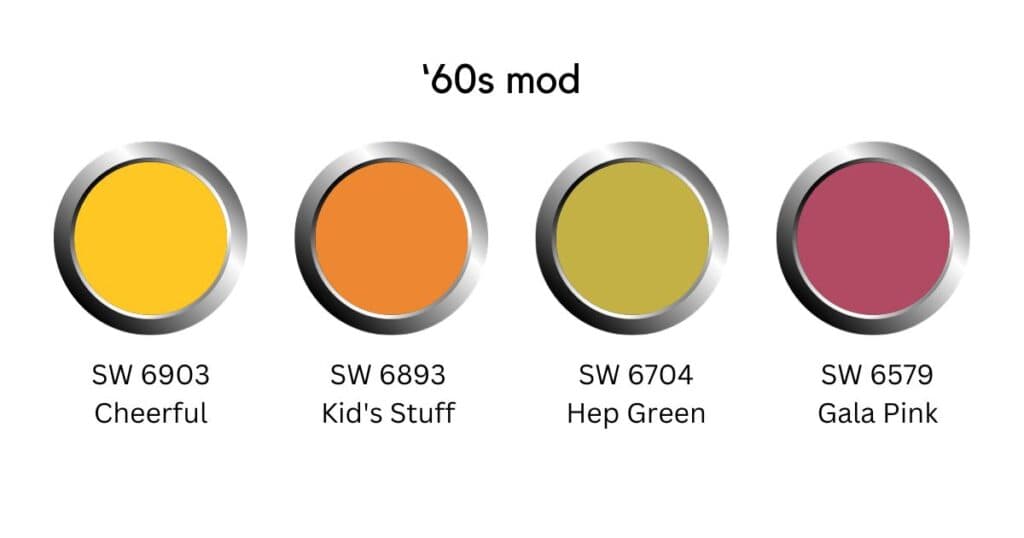 Primary Color Splashes: Mid-century palettes really embrace primary colors in their purest, most saturated form – think lipstick red, sunflower yellow, sapphire blue. These hues make the boldest statements.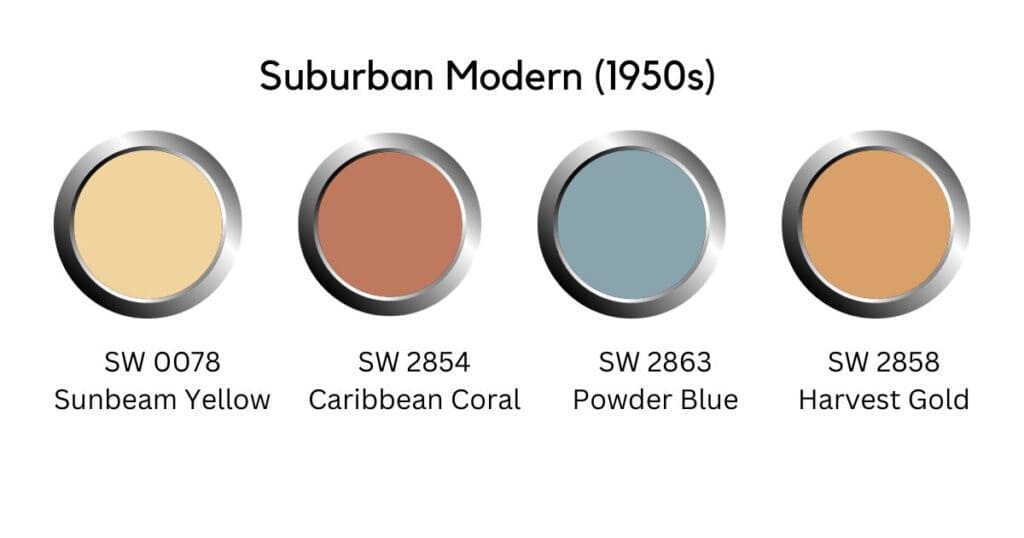 Pastel Tones: On the more demure side, pastels also have a mid-century vibe. Mint green, blush pink, sky blue, and buttercream work well. These suit bedrooms and other tranquil spaces.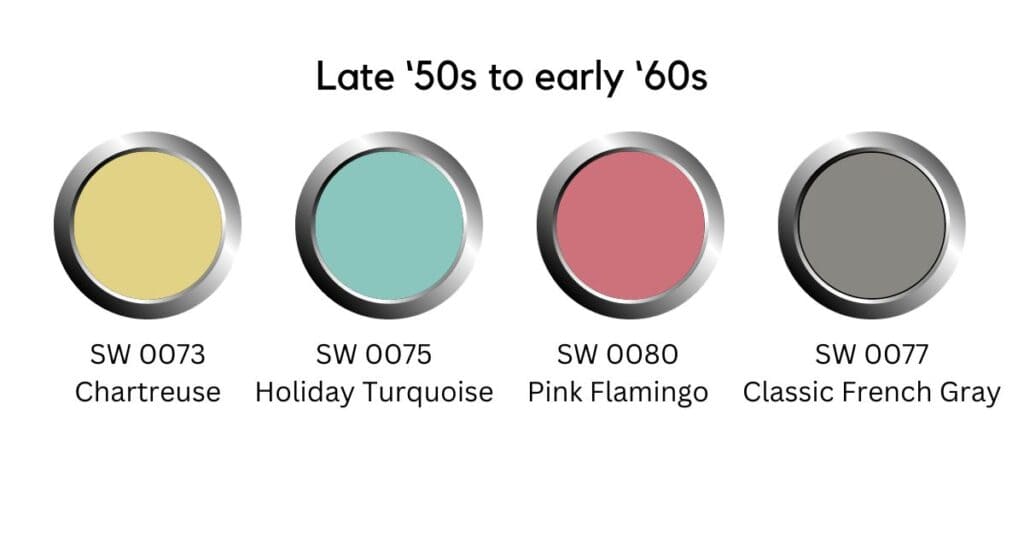 Metallics: Silver, gold, copper, and brass finishes complement mid-mod's sleek lines. Metallic accents on lamps, furniture legs, artwork frames, and accessories catch the light.
Combining neutral backdrops with vibrant accents makes mid-mod color palettes bold yet balanced.
Bringing Mid-Century Style Home
If you've ever found yourself marveling at the aesthetic charm of Mad Men's set design or felt captivated by the simplicity and functionality of an old photograph from the 1950s or 60s, you're not alone.
Mid-century design is all about blending the best of form and function, and the good news is it's making a major comeback in modern homes. Ready to travel back in time and yet remain distinctly contemporary? Here's how you can infuse your space with mid-century magic.
Furniture – Beyond Just Seating
The first step to achieving the mid-century look is selecting the right furniture. The mid-century era was all about minimalism but also comfort.
Silhouettes and Legs: Start by looking for furniture with clean lines and tapered legs, whether wooden or metal. You may be surprised to find that even your grandmother's old couch can fit the bill if it has a low profile.
Iconic Pieces: Certain pieces of furniture have become almost synonymous with the mid-century era.
Think egg chairs – their organic form is a visual delight and an invitation to curl up with a good book. Similarly, womb chairs, with their embracing curves, are perfect for creating cozy reading nooks.
Tulip tables, often seen in vintage diners, can give your dining space an instant retro vibe. And let's not forget teak dining sets, daybeds, and sectional sofas. They scream comfort and style!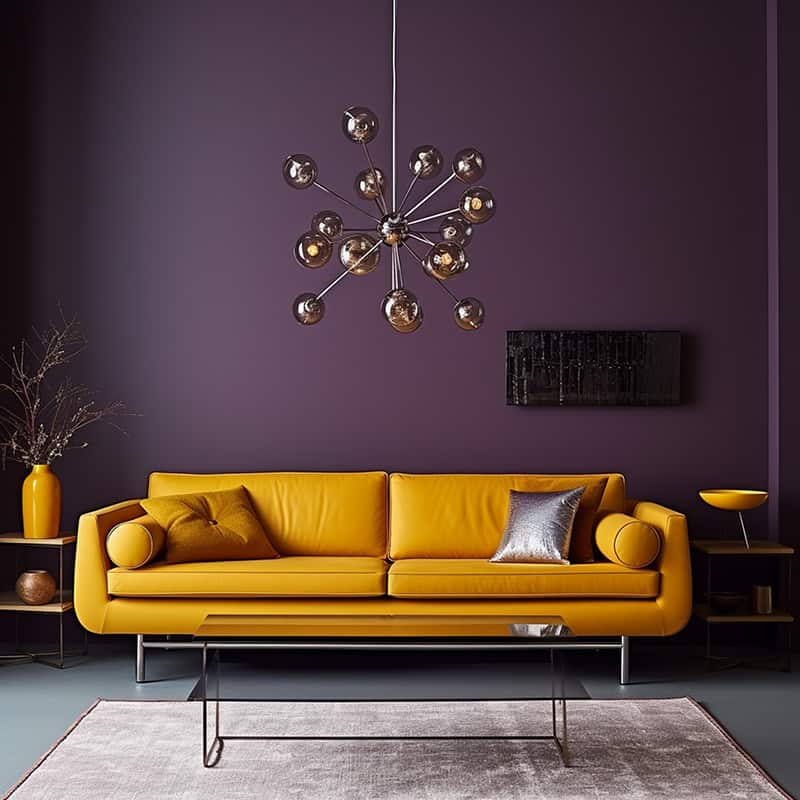 Adding the Extras: How do we make these spaces feel more lived-in? The answer lies in adding functional pieces.
Floor pillows and ottomans, for instance, are not only comfortable but also versatile. They can double up as seating during house parties or footrests on lazy Sunday afternoons.
Lighting
The magic of mid-century design often begins with the right lighting. Think of lighting as more than just illumination—it's about creating an atmosphere, evoking a feeling of nostalgia while maintaining a modern touch.
Sculptural and space-age-inspired designs, such as globe pendants and angular floor lamps, are definitive to the mid-century mood. If you're aiming to make a statement, sputnik-style chandeliers and abstract wall sconces are the way to go.
Pro tip: Utilize these unique lighting fixtures to emphasize and highlight specific architectural features in your space.
Textiles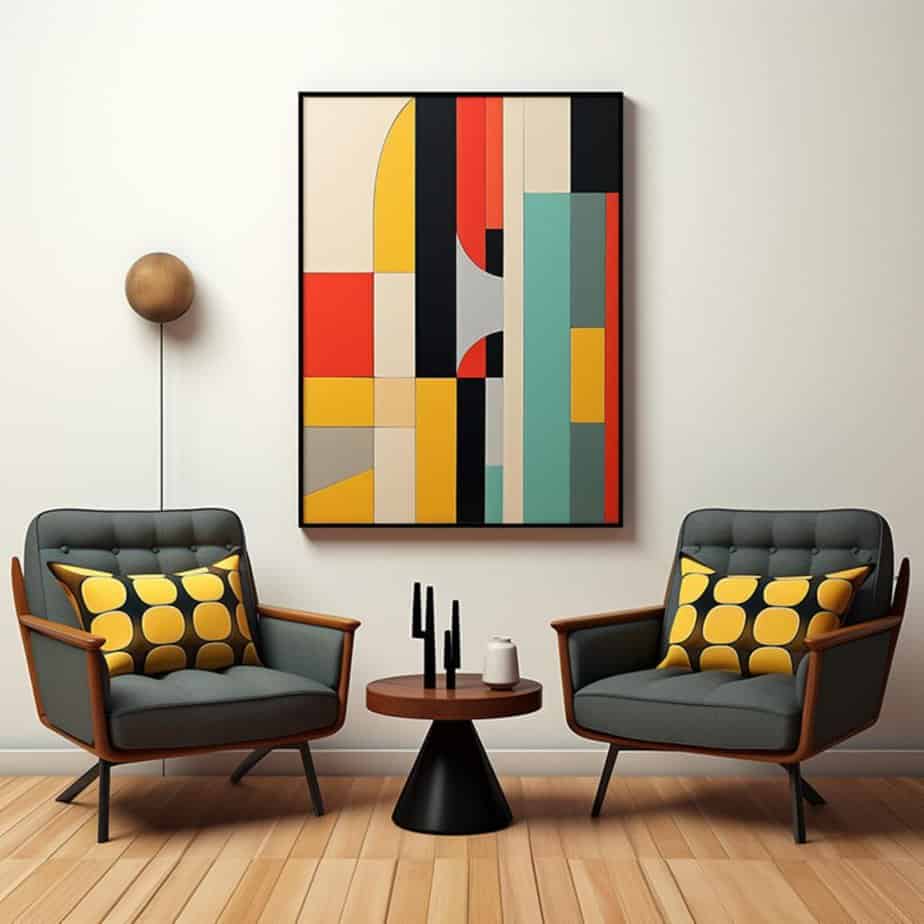 Delving into the world of mid-century textiles is like opening a vibrant storybook. Nature-inspired motifs with leaves, flowers, butterflies, and bold geometrics can add a touch of whimsy and retro elegance. Imagine a vibrant couch with cushions sporting these patterns or a statement rug drawing eyes with vivid geometric designs.
When it comes to materials, textured fabrics like wool, linen, microfiber, and velvet are quintessentially mid-century. Pair these with the rich, lively shades from the Mid-century modern color palette, and you have a winning combination.
Art & Accessories
Art and accessories in the mid-century style are all about subtlety paired with bold statement pieces. Look for items that exude clean lines combined with asymmetry and geometric influences.
Wall art, especially with abstract designs, can become the centerpiece of a room. Incorporate ceramic vases, metallic sculptures, or even graphic prints in bold frames to enhance the space's aesthetic appeal.
Remember that balance is key if you're seeking to infuse a genuine mid-century feel. While the designs can be striking, their placement and coordination with other elements should create a harmonious look.
Incorporating mid-century modern design elements is an exciting journey. It's about revisiting a past era while infusing it with contemporary sensibilities. And while every design component has its significance, the cohesive color scheme holds it all together.
Architectural Details
Wood paneling offers warmth. Floor-to-ceiling windows and glass sliding doors optimize natural light. Try a vivid accent wall in a primary color – mustard yellow!
Here are some tips on using different wall treatments to achieve a mid-century modern aesthetic:
Wood paneling offers wonderful warmth and texture in mid-century interiors. Opt for blonde wood or walnut stains to complement the era's preference for lighter, brighter spaces. Use wood paneling on a single accent wall to add interest without making rooms feel too heavy. Floor-to-ceiling wood paneling can impart that quintessential retro rec room feel.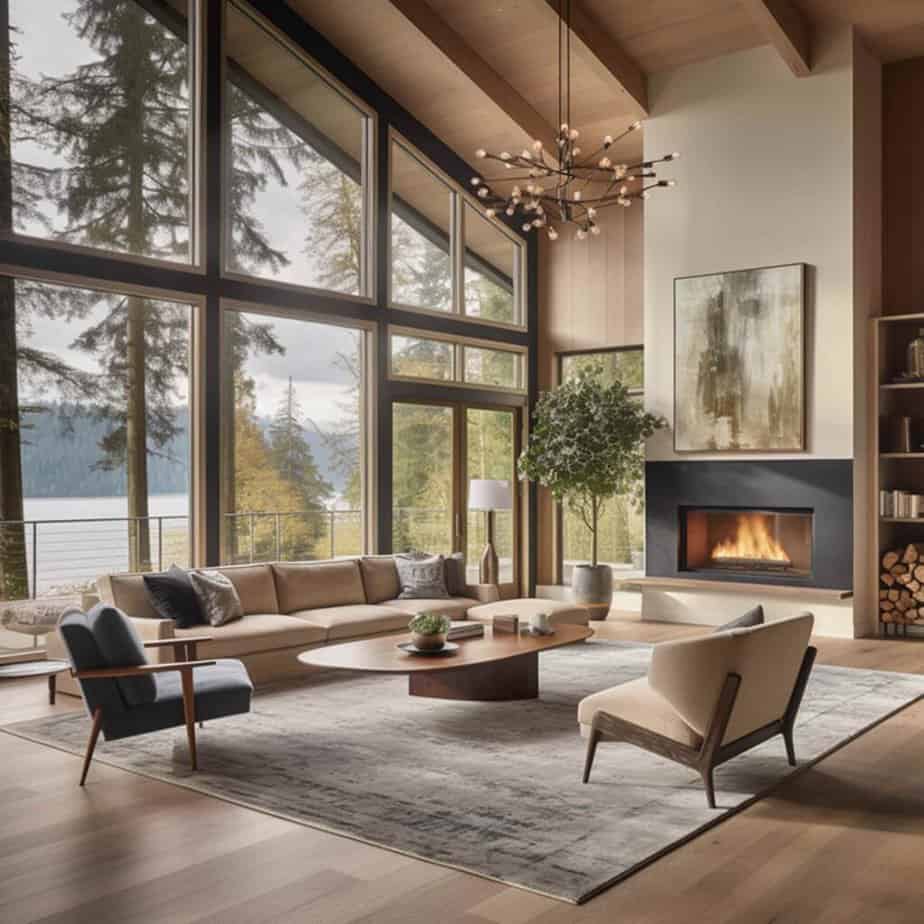 Vivid accent walls in primary colors or pastels make a bold statement in mid-century decor. Try a grassy green, sunshiny yellow, or deep teal on a wall behind a credenza or daybed to really make it pop. Limiting bright hues to just one wall prevents overwhelming the senses. Pare down embellishments on a colored accent wall for optimal effect.
Floor-to-ceiling windows and glass sliding doors are hallmarks of mid-century homes, optimizing views and natural light. If remodeling isn't feasible, still make the most of windows in your mid-mod space.
Choose sheer curtains to allow light to stream through—position furniture to showcase views of nature outside. Supplement with strategically placed mirrors to add depth and brightness.
Implementing any combination of warm wood paneling, vivid accent walls, and ample glass elements can help you nail the mid-century wall treatment trifecta. Let these features highlight your architecture while showcasing decorative statement pieces.
Greenery
There's a serene beauty in bringing the outside in, and the mid-century modern design absolutely revels in this idea. Incorporating greenery into your interiors not only uplifts the spirit of the space but also breathes life into it, making it feel more organic and connected with nature.
Houseplants: Your leafy co-stars in this design play. Houseplants like palms, with their sprawling fronds, ferns, which bring a touch of the forest inside, and succulents, those hardy little soldiers of the plant world, fit beautifully into the mid-century design.
Their shapes and textures can be beautifully contrasted and complemented by the vivid tones of a Mid-century modern color palette.
Tip: Remember, different plants have different sunlight needs. While palms and ferns thrive in indirect light, succulents often prefer brighter spots. So, when placing these plants, keep their sunlight preferences in mind.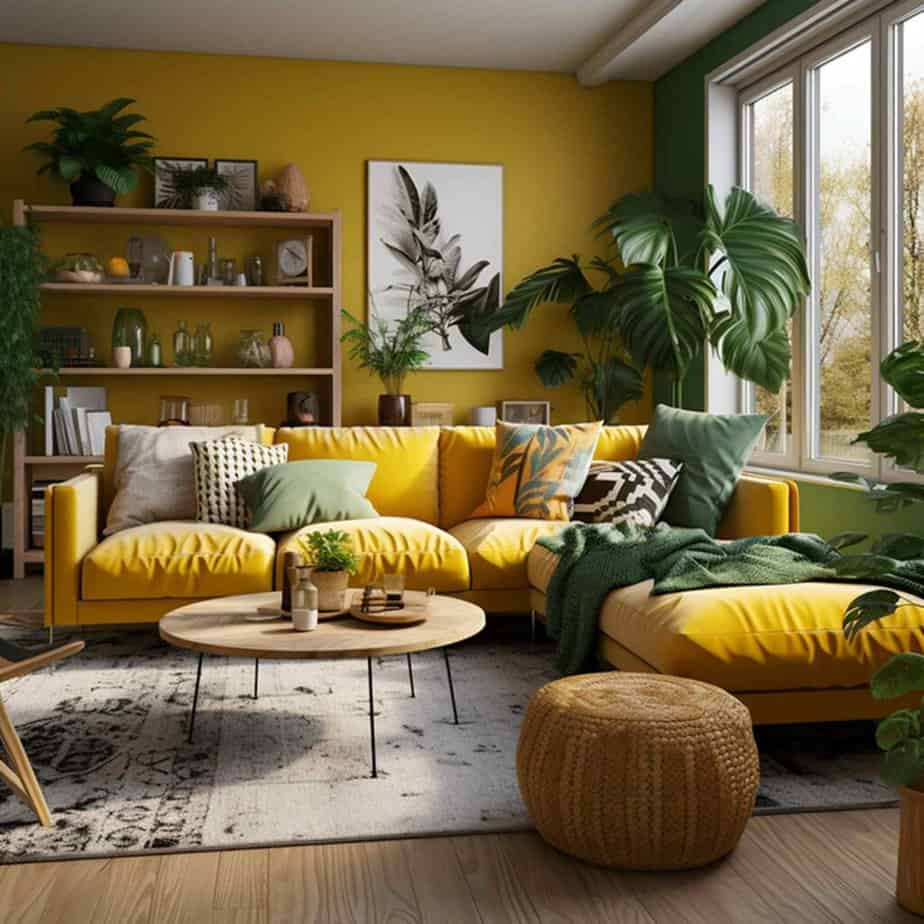 Views of Nature: Here's where things get a tad architectural. The mid-century design often leaned into large glass walls or wide windows, emphasizing a seamless integration with the outdoors. If you're lucky enough to have a view, frame it!
Glass walls act as a living painting, changing with the seasons and offering you a dynamic backdrop.
Hanging Planters: Speaking of framing views, hanging planters in front of large windows is a brilliant idea. This creates an intriguing layered look with the outdoors, and the sunlight filtering through the leaves can cast mesmerizing patterns inside, giving your space an ever-changing, natural mural. In essence, the art of mid-century design lies in its ability to fuse indoor spaces with the beauty of the outside world.
Notable Mid-Century Icons
Some of the most influential mid-century modern designers include Charles and Ray Eames, Arne Jacobsen, Eero Saarinen, Isamu Noguchi, Ludwig Mies van der Rohe, and Florence Knoll. Their iconic furnishings and architecture encapsulate everything we love about mid-century style.
Charles and Ray Eames
Charles and Ray Eames are among the most recognizable names in mid-century furniture design.
Their molded plywood lounge chair and ottoman exude mid-century style with their gentle curves and lightweight structure.
Eames lounge chairs grace living rooms across the globe as the quintessential mid-mod statement piece.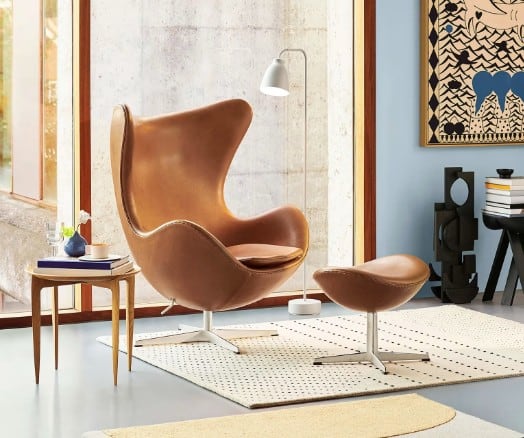 Arne Jacobsen
For Danish architect Arne Jacobsen, simplicity and functionality were key.
His sculpted Egg and Swan chairs became hallmarks of the mid-century aesthetic, featuring curved fiberglass shapes perched atop angled metal legs.
Jacobsen's Ant Chair exemplifies mid-century decor's space-age vibe and futuristic form.
Eero Saarinen
Finland-born architect Eero Saarinen pushed furniture design to new sculptural heights.
His Womb chair encapsulates body-cradling comfort with its enveloping form.
Saarinen's Tulip tables feature pedestal bases reminiscent of flowers in bloom. His innovative molded fiberglass chairs incorporate organic material and geometric styling.
Florence Knoll (1917-2019) was a renowned American architect and furniture designer who significantly influenced the mid-century modern movement.
A pioneering designer and entrepreneur, she transformed the landscape of America's post-war corporate interiors with her holistic approach to design, integrating architecture with furniture and space planning.
As a key figure at Knoll Associates, a company she co-founded, Florence Knoll's contributions remain timeless and foundational in the realm of modern design.
Japanese-American sculptor Isamu Noguchi created art that blurred boundaries.
His table lamps resemble lunar landers ready for takeoff. Noguchi's sofa designs have an amoeba-like asymmetry.
His merged natural stone and futuristic forms embody the mid-century style's contrast of organic and space-age materials.
Ludwig Mies van der Rohe, commonly referred to as Mies, stands as a titan in the realm of modernist architecture. Born in Germany in 1886, Mies championed a minimalist design philosophy encapsulated by his celebrated mantra, "Less is more."
His renowned pieces, such as the Barcelona Chair and the Brno Chair, are celebrated for their sleek, timeless elegance. In the architectural world, landmarks like the Barcelona Pavilion and New York City's Seagram Building further underscore his profound influence on 20th-century design.
This group of visionary designers left an indelible mark on mid-century style. They embodied form following function and showed that furniture could go beyond utility to become art. Try using iconic pieces from these creators as statement-making accents when designing your own mid-century modern.
The Timeless Allure of Mid-Century Design
The mid-century modern style feels fresh and relevant with its vintage roots yet contemporary adaptability. By blending clean lines, bold colors, organic shapes, and architectural details, you can easily achieve this sought-after aesthetic in your own home. Mix old and new pieces for a collected look that celebrates both retro charm and modern minimalism.