Simple Holiday Decorating Ideas for the Home Office
Holiday Decorating Ideas for the Home Office
The holiday season is a time for festive decorations, spreading the holiday spirit, and spending time with loved ones. One of the most iconic holiday decorations is the Christmas tree, adorned with colorful lights, evergreen branches, and various decorations. However, if you have a small space or an office door, you may wonder how you can still incorporate this symbol of the holiday season into your decor.
Fortunately, many creative ideas exist to decorate a small tree or even a simple design on your home office walls. You can use pine cones, fairy lights, and different colors of ornaments to add a touch of holiday cheer.
An advent calendar or traditional wreath can also bring the holiday spirit to your space. With some imagination, you can transform any space into a festive wonderland during the most wonderful time of the year.
---
This post contains affiliate links to products. If you purchase any of these items from my post, I will receive a small commission from the merchant at no additional cost to you.
Disclosure: This post and images may include content partially written/created by AI
---
Decorating Your Small Office Space
The holiday season is the most wonderful time of the year and is the perfect time to decorate your small office space. With some creativity and festive decorations, you can transform your workspace into a winter wonderland that will get you and your colleagues into the holiday spirit.
Compact Christmas Charm
You can still have a Christmas tree if you have a small space. Consider getting a small tree on your desk or in a corner of your office. You can decorate it with different colors of lights, pine cones, and even Christmas presents.
You can also use evergreen branches to create a mini tree on your desk. Add some fairy lights to brighten up your space.
Simple Design for Office Walls
Maximize the use of your office walls to decorate for the holiday season. Hang a traditional wreath on your office door or decorate it with tartan plaids. You can also create a light display using cardboard boxes and white paint.
Hang fairy lights around your office walls, or create an advent calendar to count down the days until Christmas. Stylish home offices can also benefit from these ideas.
Safety in Festive Decorating
While decorating, prioritize safety, particularly with electrical items like fairy lights. Ensure they are in good condition and avoid overloading sockets. It's also wise to turn off these decorations for safety and energy conservation when not in use.
Frequently Asked Questions
How can I decorate my small office space for the holiday season?
If you have a small office space, you can still bring festive cheer with simple decorations. Opt for a mini Christmas tree or a vase with evergreen branches. Fairy lights and tartan plaid-wrapped cardboard boxes can also add warmth and cheer without taking up much space.
What are some creative ideas for festive decorations?
Get creative with pine cones and white paint for a snowy effect, or craft a simple wreath for elegance. Set up an advent calendar for daily cheer, and consider fairy lights and tartan plaids for a cozy ambiance.
How can I bring the holiday spirit to my office walls?
Decorate your walls with evergreen branches, traditional wreaths, or a string of fairy lights. You can also create a festive display with a wall arrangement of small, wrapped presents or tartan plaids for added color.
What are some stylish home office holiday decorating ideas?
In a home office, simplicity can be stylish. A holiday-themed gallery wall or festive decorations in your office can elevate the holiday mood.
Festive Decoration Materials
When it comes to decorating for the holiday season, there are a variety of materials you can use to create a festive atmosphere. Here are a few ideas to get you started: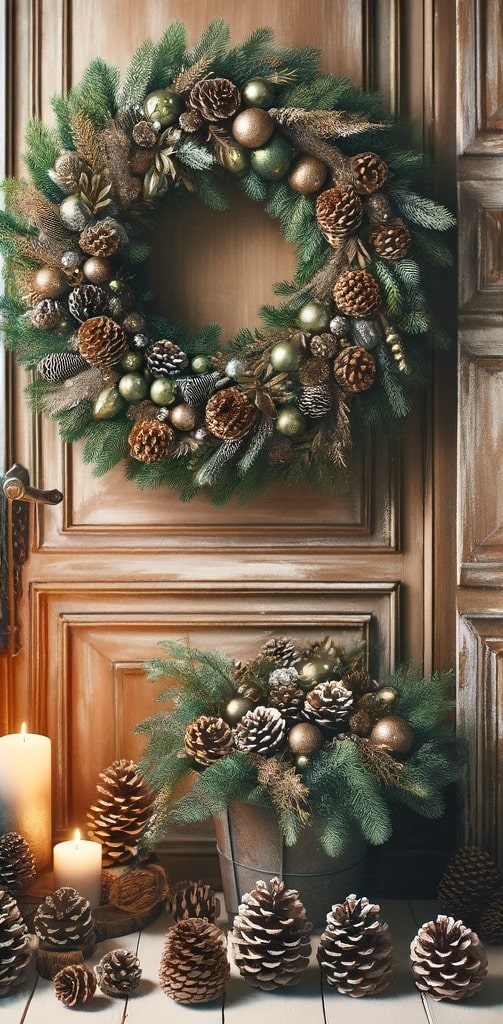 Using Pine Cones and Evergreen Branches
Natural elements like pine cones and evergreen branches can add a classic holiday touch to your decor. These versatile materials are perfect for crafting wreaths, garlands, and table centerpieces.
For a simple yet elegant display, gather pine cones and branches, using wire or string to assemble them into your desired designs.
As a charming centerpiece, consider filling a clear glass vase with pine cones and evergreen branches. Enhance this natural beauty by wrapping fairy lights around the vase for a cozy, ambient glow.
Pine cones can also serve as quaint decorations for your Christmas tree, tied to branches with ribbons for a rustic look.
Lighting Up the Holiday Season
The holiday season is the most wonderful time of the year, and lighting plays a crucial role in creating a festive atmosphere. Many creative ideas exist, whether you're decorating your small space, office door, or front porch.
Selecting the Ideal Christmas Lights
Lighting is pivotal in holiday decorating, setting the mood and atmosphere. When choosing Christmas lights, consider various options like energy-efficient LED lights, durable waterproof lights for outdoor use, and lights with different settings such as steady-on or flashing for a dynamic display.
Tailor your light choice to the space you're decorating. Fairy lights are perfect for smaller areas or to accentuate a mini tree. At the same time, larger spaces like office walls or lobbies may benefit from more elaborate light displays or traditional wreaths adorned with lights.
Fairy Lights: A Versatile Decorating Staple
Fairy lights are not only stylish but highly adaptable for holiday decorating. Available in various colors, they can create a warm and inviting ambiance in any setting.
When setting up fairy lights, ensure they're near a power source and use creative methods like hiding wires for a neat appearance.
Secure the fairy lights with clips or hooks, and consider intertwining them with natural elements like evergreen branches or pine cones. To add an interactive element to your holiday decor, create an advent calendar with fairy lights, incorporating small gifts to mark each day leading up to Christmas.
Creating the Holiday Spirit
The holiday season is the most wonderful time of the year, and it's the perfect opportunity to decorate your small space or stylish home office with festive decorations that will bring the holiday spirit to life. Whether you want to create a simple design or go all out with creative ideas, there are plenty of ways to infuse your space with the joy and warmth of the season.
Choosing the Right Color for Your Lights
Christmas lights are a staple of holiday decorating, but choosing the right color can be tricky. White lights are classic and versatile, but colored lights can add a fun, playful touch.
Consider using blue or purple lights if you want a more modern vibe. If you want a more traditional look, stick with red and green. And if you want a pop of color, try using a mix of different colors.
When it comes to holiday decorating, the possibilities are endless. Whether you have a small space or a large office lobby, there are plenty of creative ideas to help you get into the holiday spirit.
From evergreen branches and pine cones to fairy lights and traditional wreaths, there are many ways to make your space feel festive and welcoming.
Concluding the Holiday Season with Final Decorative Flourishes
As the holiday season draws to a close, it's the perfect opportunity to give your festive decorations some finishing touches, ensuring your small space and office door remain spirited and inviting till the very end.
Enhancing Your Tree with Seasonal Flair
Even a small tree can leave a lasting impression with the right decorations. Utilize a mix of evergreen branches and pine cones to create a naturally cozy atmosphere. Intertwining fairy lights among the branches can add a warm, gentle glow, transforming your space into a snug winter haven. To infuse a sense of traditional holiday charm, consider draping tartan plaids over the branches or adding a few carefully selected traditional wreaths as part of your tree decorations. These classic elements can elevate your tree's aesthetic, making it a standout feature in your office.
Creative Touches for Office Doors and Small Spaces
Your office door offers another canvas for holiday creativity. Adorn it with a festive wreath or garland that complements the overall theme of your office. For those final decorative elements, consider small, handcrafted ornaments or a string of twinkling lights framing the door, creating a welcoming entrance for anyone who steps into your workspace.
In addition to your door, look for opportunities to add subtle yet festive touches throughout your small space. A beautifully crafted miniature gingerbread house on a shelf, a series of small, hanging snowflakes, or a garland draped along the top of a window can all add to the holiday ambiance without overwhelming the area.
As you wrap up the holiday season, remember that these final touches are not just about aesthetics but about capturing and holding onto the joy and warmth of the holidays. By thoughtfully curating your space with these decorative elements, you ensure that the festive spirit lingers a little longer, making the transition out of the holiday season a gentle and pleasant experience.