The Grand Millennial Interior Design Style 2023.
The Grand Millennial design style describes a trend of young adults interested in historic interior design styles. The aesthetic combines traditional and modern elements, emphasizing quality craftsmanship and luxury materials.
The style is rooted in a desire for authenticity and nostalgia for yesteryear. But with a sense of humor and playfulness, reflected in bold colors and patterns. While "Grand Millennial" is new, the aesthetic has evolved for years. It is a direct response to the mass-produced, disposable style of the late 20th century, which is a return to traditional values and craftsmanship.
The Grand Millennial design trend is rapidly becoming one of the trendiest design styles. This interior design style combines traditional style and beautiful materials with traditional and modern, and stylish accents, resulting in an inviting space that is both unique and stylish.
The home office is one of the most popular places to incorporate this style. It is perfect for a blend of traditional and modern, providing a stylish and functional space for work. Who doesn't love a grand millennial green velvet sofa in their home office?
Disclosure: This post contains affiliate links to products. If you purchase any of these items from my post, I will receive a small commission from the merchant at no additional cost to you. This post and images may include content partially written/created by AI.
Furniture:
These days, vintage furnishings are all the rage, and for a good reason. Grand Millennial interior design style is all about classic Vintage-inspired furniture with a twist. Wood finishes and fabrics are usually in bright colors and patterns, often featuring intricate details such as tufting or carving.
The goal is to achieve a bold, elegant, and fun interior look. Grand Millennial style is perfect for those who want their home to make a statement. Furniture is one of the best ways to achieve this look, and consider going antique shopping or attending an estate sale to find something unique.
This style will attract attention with dramatic patterns and high-end materials, combining various components to create a unique environment. Do not be afraid to mix and match multiple looks until you discover the right combination for your house.
This design style is perfect for those who want their home to make a statement. Grand Millennial design dates back to when people took pride in their homes, and furniture reflected that. This style updates traditional methods with a focus on quality craftsmanship.
Historical references are vital to creating a Grand Millennial look. Elements such as wingback chairs, grandfather clocks, and chinoiserie artwork are nods to the past that work perfectly with modern pieces. The goal is to achieve a bold, elegant, and fun interior look. If you want to make your home stand out, consider embracing the Grand Millennial style.
Lighting:
Vintage light fixtures are making a comeback in a big way. History repeats itself in design styles, and we see a resurgence of vintage looks in homes and office spaces. There is something about adding vintage touches to your home or office space that can make even an otherwise mundane area feel dramatic and inviting.
Chandeliers, statement pendant lights, and elegant floor lamps are great choices. In addition, vintage-style light fixtures add a sense of drama and sophistication to any space.
And do not forget about natural light too- it is essential for creating warm environments where people feel at home.
The Grand Millennial design trend is about mixing old and new, and vintage-style light fixtures are the perfect way to do that.
Accessories:
Accessories are a fantastic way to add character and significance to a room. For example, use family heirlooms or antique books in your home office while using vintage finds such as old photographs adorn living rooms!
This design style encourages you to mix various elements to create your personality throughout this lovely home office.
This style is famous for several reasons, but I think the main one is that people are increasingly becoming more interested in their heritage and roots and want to incorporate them into their homes.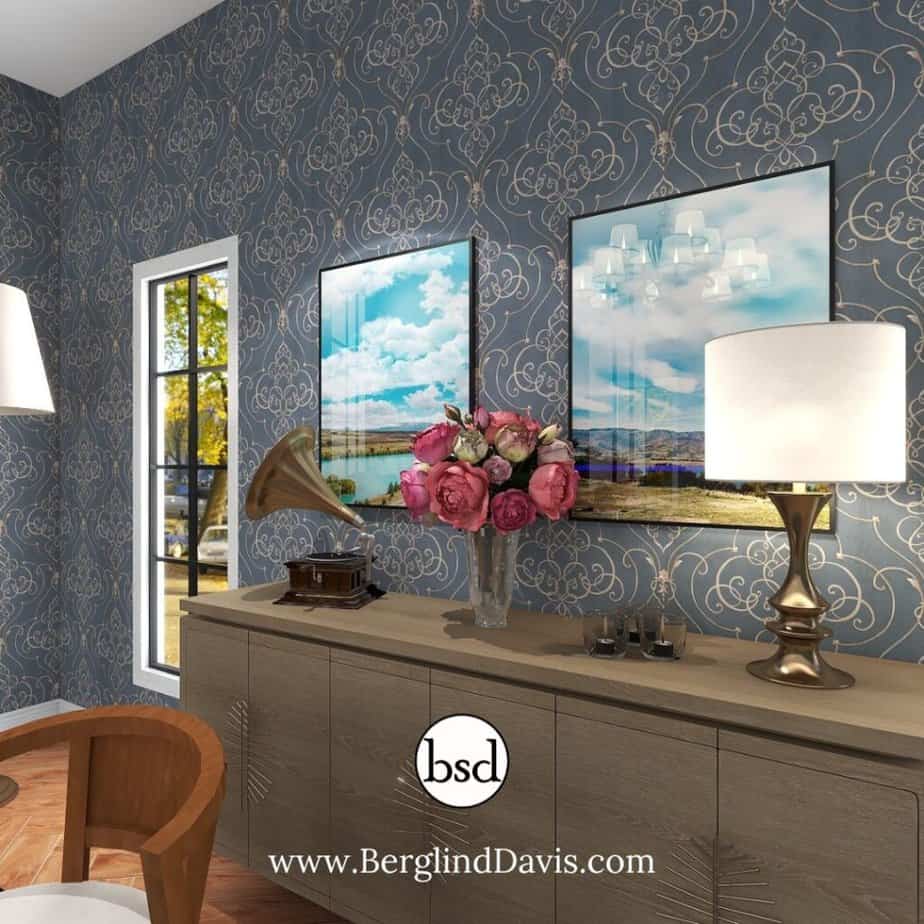 Texture, patterns, and colors:
This style mixes and matches unusual colors, patterns, and textures to create a unique and stylish space. The Grand Millennial design style often incorporates intricate prints such as Damask, floral, or Paisley. The colors used in this style are typically bold and bright, with pops of color throughout the space.
This style typically incorporates a lot of different textures into the space, using carefully selected fabrics, furniture, and even wall coverings. Adding texture to a room can add interest and depth, which is a terrific way to make this style space your own.
Tapestries and wallpaper:
Decorative tapestries and floral wallpaper are making a comeback in a big way. GrandMillennial style is all about accessorizing your home with some creative flair.
Tapestries and wallpaper can make an accent wall in any room. At the same time, drapes give windows personality to match their unique features for Grand millennial homeowners who want extra creativity within the space without being overbearing or too distracting from other aspects like furniture placement.
Wallpaper is a beautiful way to add color and pattern to any room; an accent wall can make a statement. Plus, it is a great way to protect your walls from nicks and scratches.
Artwork:
Artwork is often the perfect way to accessorize a room and make it feel complete. A bare wall can feel cold and unfinished, but artwork can bring color, life, and personality into a space. It should be used to make a statement or create a mood and can be the perfect way to personalize a room.
Artwork is especially well-suited to the grand millennial design style of making a space look luxurious and inviting. With its focus on bold colors and dramatic statements, the artwork is the perfect way to add a touch of glamour to any room.
Plants, flowers:
When it comes to GrandMillennial interiors, plants and flowers are necessary. Not only do they add a touch of elegance and sophistication, but they also help to create a sense of majesty and grandeur. So, in addition to traditional centerpieces and paintings, consider using plants and flowers to accessorize your space.
Big, vibrant vases of fresh flowers or foliage can make a statement in any room, and adding plants can help create a sense of peace and relaxation. Plants can act as natural air purifiers and bring in a little of the outdoors. When selecting plants, choose those that will thrive in your climate and suit the level of light and care they'll receive. Look for ones that are low-maintenance or easy to care for, such as succulents, potted herbs, or even terrariums.
Small plants can add texture and visual interest to shelves and other hard-to-reach places, while larger plants can be placed in key spots throughout the room. With a little effort, your space will look lively and beautiful!
How to get started with implementing the Grand Millennial style in my home?
Grand Millennial is a design style that is a new tradition popping up all over social media. Its mix-and-match aesthetic defines the look, which pulls elements from various design styles (think: preppy, maximalist, boho) to create a unique, over-the-top look.
Paint your walls boldly to create the ideal starting point for your room; from there, you can add pops of color and patterns with furniture upholstery and decor.
Choose bold colors and patterns. One of the defining features of the Grand Millennial style is its use of bold colors and eye-catching prints. When choosing furniture, wallpaper, and decor for your space, look for pieces that pack a punch in color and pattern.
Grand Millennial style is about thinking creatively and breaking design rules. This interior style is a trend that is here to stay. It is about mixing different pieces to create a unique and stylish look.
Vintage pieces are an excellent way to go if you want to give your house a touch of class and magnificence. Vintage objects have history and character, setting your area apart. Also, do not be afraid to mix and match a range of styles; that makes the Grand-Millennial style distinctive. Not only that, but they may also be quite distinct and attention-grabbing.
It is essential to have an open mind when buying vintage items. Not everything must be from the same era or style. Experimenting with mixing and matching diverse types may be enjoyable and creative.
Conclusion.
So, there you have it! Grand Millennial is the perfect design style for making a big statement in your house. This look is unique and high-end, so go crazy and have fun. Your home office should reflect individuality and inspire you to do your best work.
Thanks for reading, and we hope this article has helped you start decorating your home office in the Grand-Millennial style!