9 Ideas on Implementing the Casual California style in your home office.
9 Ideas on Implementing the Casual California style in your home office.
Creating a casual California interior design style focuses on comfort and relaxation. It often features simple lines and natural materials and looks effortlessly collected and relaxed, which creates an inviting atmosphere.
Choose calming colors like blues, greens, and neutrals to create a relaxed feel, and add pops of color with accessories and accents. You can create a space perfect for relaxing and enjoying life with a few simple tips below.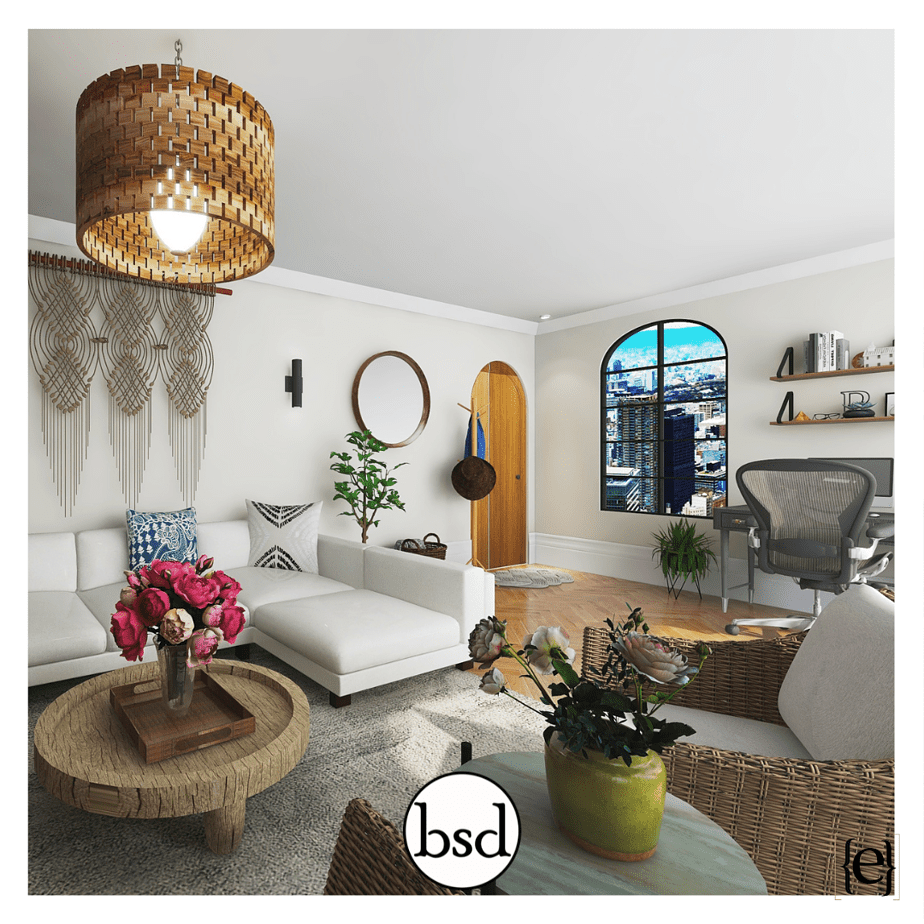 The Casual California design style mixes modern bohemian, a large dash of modern coastal, and a few industrial styles with natural vibes.
It often has simple straight lines, natural wood materials, colors, and textures. The open spaces in a California home make it so laid back. The casual design style often features large furniture pieces that don't obstruct traffic flow and incorporate lightly textured walls and ceilings to help diffuse sound and flooring options such as hardwood or tile floors, depending on your preferences.
Disclosure: This post contains affiliate links to products. If you purchase any of these items from my post, I will receive a small commission from the merchant at no additional cost to you. This post and images may include content partially written/created by AI.
1 Create Casual Furniture Arrangements.
Furniture doesn't have to be symmetrical to look put together. You can create a casual look using different furniture shapes and sizes in interesting combinations.
Casual, inviting furniture is the perfect way to liven up any space! It often has simple lines and natural materials, colors, or textures. The inviting style will make you feel at home with its laid-back atmosphere – just what every person wants during these hectic days of work pressure.
The use of Casual California-style furniture will often reflect the climate and culture of the state. For example, in hot and dry Palm Springs, homeowners may choose light-colored furniture with rattan or wicker accents to create an airy, relaxed feel in their home.
It is essential to keep in mind the relaxed and easy-going vibe you create when decorating. Stick to a simple color palette and avoid busy patterns. Natural materials and textures are essential, so try to use light wood, stone, metal, sisal rugs, and wicker as much as possible.
The key point is to make your important furniture pieces cozy and pleasant with this design. It is all about keeping things simple, nothing with tufting, nailhead, or ornate decorations for the sofas and sectionals. The sofas and sectionals should be modest in profile, concealed by a fantastic worn caramel leather or neutral linen or cotton fabric that is easy to maintain.
2 Bring the Outdoors in.
Another defining characteristic is its focus on incorporating the outdoors into the home. It's possible to accomplish this in various ways, such as by utilizing natural materials in the design and furniture or installing floor-to-ceiling windows that offer views of the outdoors. Or, more economically, using greenery, tall and large leaf plants with sprawling branches, or meditative water features to bring the outdoors inside.
In addition, use indoor/outdoor living spaces, including features like open-air patios, decks, or gardens. These spaces are perfect for enjoying the beautiful spring and summer days and spending time with family and friends.
3 Incorporate Natural Decorative Elements.
One of Casual California's design hallmarks is the use of natural materials. This implies you should go for a more laid-back vibe rather than a formal and rigid look. Furniture should be comfortable and functional. Earth tones are always trendy, as are woodsy and rustic textures. These create a warm and inviting atmosphere in your home. You can bring in natural elements through your furniture accessories and efficiently with paint colors with little effort.
4 Use light and airy fabrics like cotton and linen.
Using light fabrics to make you feel comfortable is important for this design style. Natural materials like organic cotton and crisp linen are perfect for this design, as they create a breezy and airy feeling in your home.
5 Use lots of Texture.
The texture is another essential element of this style. Mixing different textures can add visual interest and make the space feel cozy. Try using wood, fabric, metal, and stone to create a layered look.
The contemporary design features a neutral color palette, rustic and earthy elements, and textured materials. Handmade beechwood mirrors – circular is great – earthenware pots, artisanal baskets, and one-of-a-kind chairs created by expert artisans will all contribute to the desired impact. Think serene yet solid with a Casual California design style.
6 Incorporate Natural Elements.
Bring the outdoors inside by using natural elements in your décor. This can include adding plants, using natural materials like stone or wood, and incorporating rustic elements into your design. These touches will help to create a warm and inviting atmosphere.
7 Go for Casual Colors.
Neutrals are king. Stick to muted shades like beige, ivory, and light greige for a relaxing yet timeless look in your home!
The key to adding color is one shade at a time. You should also think about how much more than just that single accent or large piece of artwork in your space and decide if it's worth doing so before you go ahead with the second color because once they're combined together, then our neutral foundation will be lost on top of which all other colors become muted by comparison.
You can also add pops of color with accessories or accents that will give you some extra flair without being too over-the-top about it – remember, not every detail needs to match because this isn't always possible when designing spaces meant for everyday living spaces such as a home office area where there might only be so much display room available at any one time.
8 Other Design Tips:
Add simple art or photographs to your walls for a touch of personality.
Wall décor is a great way to add personality and fresh perspective to your home. Many types of art can be done on the walls, like painting them white or adding simple black-and-white photographs, making any room feel more modern without taking up too much space on shelves!
Use neutrally colored rugs and pillows to add interest and comfort.
One of the best ways to create a feeling of comfort in your home is through color. A rug with a neutral background will not only add interest but also provide warmth when sitting on it!
Pillows might seem simple enough. However, adding extra touches, such as brightly patterned throws, makes them more interesting than plain old white ones during wintertime.
Hang curtains high and wide to create an open, airy crisp feel.
This is a great way to create an open and airy feeling in your home. Just hang curtains high, wide enough so they billow out nicely at their edges, or tie them back with hooks so you can breeze every day!
9 Spaces open to the outdoors.
Experience the essence of California's Casual Interior Design Style, where harnessing natural light and infusing your space with color and pattern takes center stage.
This exquisite interior design style effortlessly combines a casual yet elegant atmosphere, adorned with bursts of vibrant hues that instantly make you feel at home, no matter where you are!
And finally – Keep it Casual.
What are the characteristics of a typical Casual California-style house? It has been referred to as a relaxing, unassuming design with natural materials and fittings. In addition, open places that are soothing are also plentiful.
Even if you live many miles from the next coastline, these are some simple ideas to help you create a Casual California style in your home, starting with furniture that is easy to move around and fuss-free accessories.
This style will help you maintain the easy and relaxed feeling that is the hallmark of this style. Keep your color palette bright, and use natural materials whenever possible.