Awesome man cave bar interior ideas on a budget.
Envision this – an exceptional Man Cave Bar built on a budget, becoming the topic of conversation in your friend group! It's a domain solely yours, where game nights become electrifying, and sports rivalries amplify.
Where the soft clatter of pool balls creates a soothing ambiance, the shimmer from the large screen enlivens your prized memorabilia, and the nostalgic harmonies of your age-old vinyl records pervade the atmosphere. What's the catch?
Achieving this isn't just a wish; it's an achievable dream that won't drain your finances! This space combines your love for sports, games, music, and lively conversations while reflecting your unique character.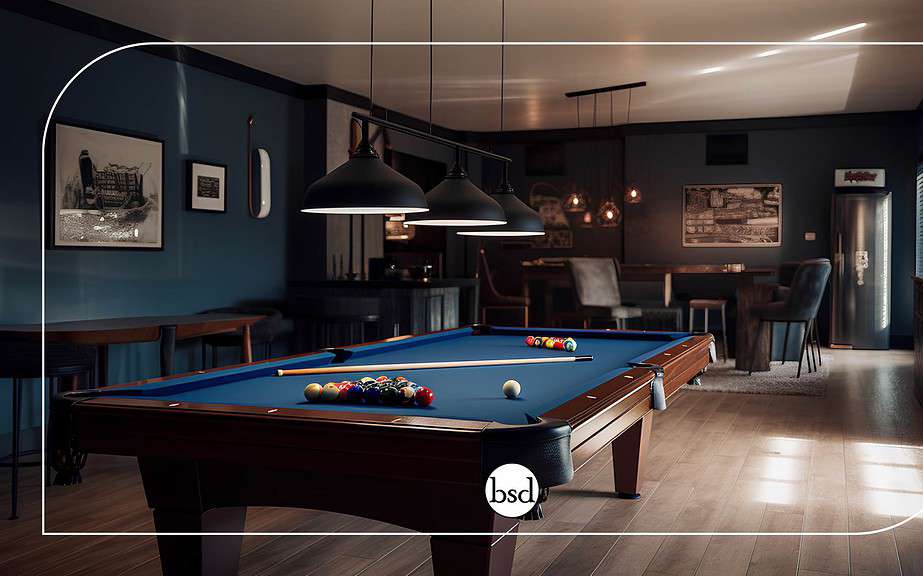 Disclosure: This post may include content partially written by AI
This post contains affiliate links to products. If you purchase any of these items from my post, I will receive a small commission from the merchant at no additional cost to you.
Budgeting: Tips, strategies, and considerations for designing on a budget.
Personalizing your Gentleman's Retreat doesn't have to be expensive. Let's debunk that myth and discover how to design a stylish bar area without breaking the bank.
Get creative and resourceful to make your space truly yours. Whether you prefer a lavish or minimalist vibe, you can customize it according to your taste.
Here's a valuable tip: embrace DIY projects—Repurpose materials like wood or an old bookshelf to create a stunning bar counter. A fresh coat of paint and trendy bar lights will add style without costing a fortune.
Thrift stores, yard sales, and online marketplaces are budget-friendly treasure troves. Look for unique finds that can become conversation starters, like a vintage wine rack or a used pool table.
Don't forget to infuse your personal touch. Display your favorite books, vinyl records, or sports posters to make your man cave truly reflect your story.
Now that you're brimming with ideas prepare for the next section: setting up an affordable home theater experience.
DIY Projects: Creative Ideas for Man Cave Bars.
Ready to bring the magic of cinema to your Personal Sanctuary? It's more accessible and more affordable than you might think! With a few well-chosen pieces and a little creative thinking, you can create an immersive home theater experience without the price tag of a VIP movie ticket.
To start, let's talk about the screen. You don't need the latest ultra-HD television to have a great movie night. Even a decently sized second-hand TV or a budget-friendly projector can do the trick.
Sound. You could opt for a surround sound system, but it can be pricey. A more budget-friendly option could be investing in a good-quality soundbar or using a decent speaker set. The trick is in the placement. Positioning your speakers around your seating area can give the illusion of surround sound without the hefty price tag.
Seating is another essential element of your home theater. Comfort is key here! You don't need to invest in expensive theater seating. Instead, a few comfortable armchairs, a second-hand sofa, or even some bean bags can create a cozy viewing area. Throw in some plush cushions and blankets, and you're all set for a movie marathon!
Lastly, remember the ambiance. Again, small touches can make a big difference. For example, dimmable lights or LED strips can create a cinematic atmosphere, while a mini fridge or a popcorn machine can add to the fun of movie nights.
Furniture: Pool tables, bar counters, seating, display cases, etc.
Let's delve into the fascinating DIY world and see how to create your bar within your Man Cave, even on a tight budget. Remember, the goal here isn't to replicate a high-end bar but to create a space that reflects your personality and feels comfortable.
Let's start with the centerpiece of any bar. Instead of buying an expensive one, consider repurposing furniture that you already have.
An old desk, a console table, or even a bookshelf can make a fantastic bar counter with creativity and a splash of paint.
Now, a bar is only complete with storage for your beverages. So there's no need for an expensive built-in wine cellar. Instead, a wine rack or some open shelves could do the trick.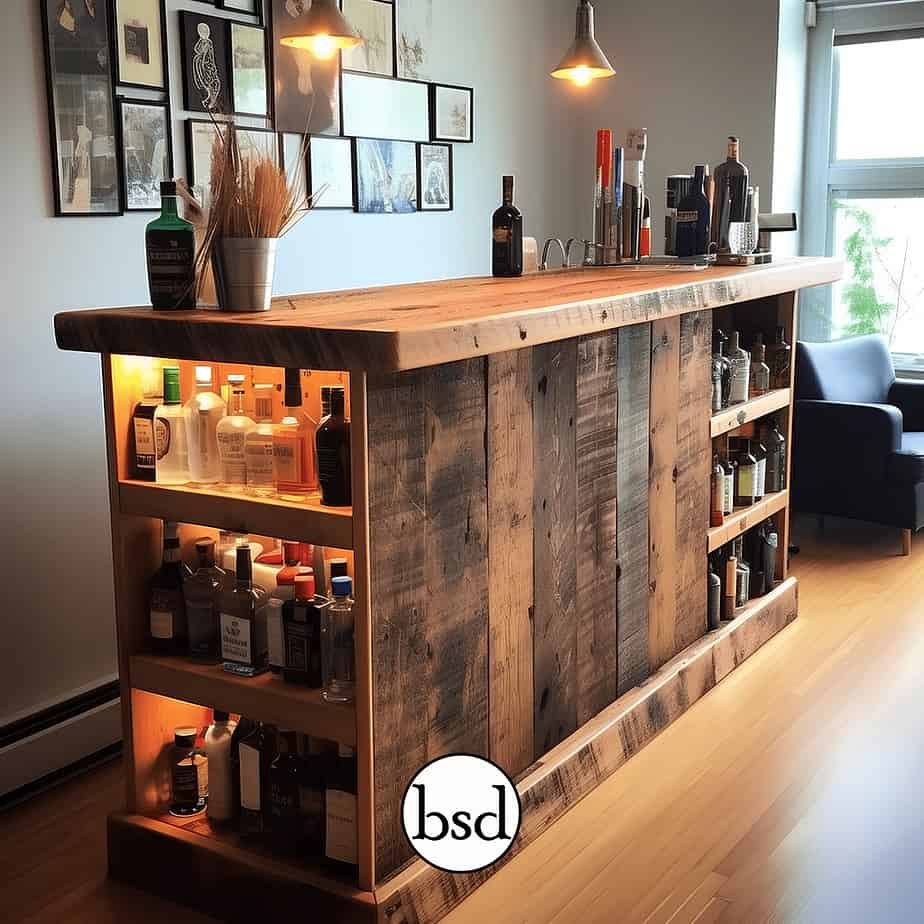 Use this space to display your favorite wines or liquors, adding a touch of personal style to your bar.
Seating is important. Bar stools are popular, but they can be pricey. Instead, try scouring thrift stores or online marketplaces for used ones. Reupholstering or repainting can transform these second-hand finds into unique pieces.
And now, onto my favorite part – personalizing your bar. This is where you can let your personality shine. Consider displaying your collection of mugs, hanging up attractive bar signs, or even showcasing your favorite books or vinyl records. The idea is to create a cozy corner that resonates with your interests and hobbies.
Remember, the goal is to create a space that feels like an extension of you, where you'd love to unwind after a long day or entertain friends over the weekend. And the cherry on top? The immense satisfaction of knowing you created this space with your own hands. So, gear up for some DIY fun!
Decor: Sports memorabilia, vinyl records, favorite books, and other decor ideas.
Let's shift our focus to something many man cave owners hold dear – sports memorabilia. How you display your cherished items can make a massive difference in the overall vibe of your space. And guess what? You can do it stylishly and on a budget!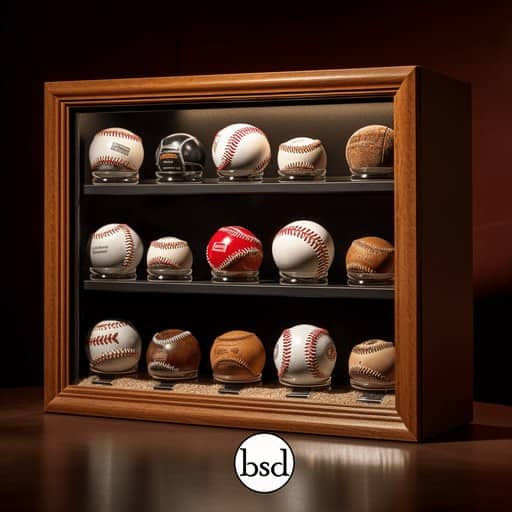 Firstly, consider display cases or shadow boxes for your most prized possessions. These can range from signed baseballs to game-winning jerseys.
Display cases protect your precious memorabilia from dust, giving them their deserved prominence. You can find affordable ones in thrift stores or online marketplaces.
Are you an avid collector of caps or hats from your favorite teams? Why not create a dedicated wall for them?
Simple hooks or even repurposed coat racks can serve as fantastic, budget-friendly display units. Arrange them creatively, and you've got yourself a wall of fame!
If you have an extensive collection of sports cards, think about using binder sheets or card display frames. This way, you can flip through your cards whenever you want, reminiscing about the game's greats.
Remember oversized items like skateboards, surfboards, or even bicycles? These can be mounted on the walls or ceilings using brackets. Not only do they showcase your love for the sport, but they also serve as unique and eye-catching decor pieces.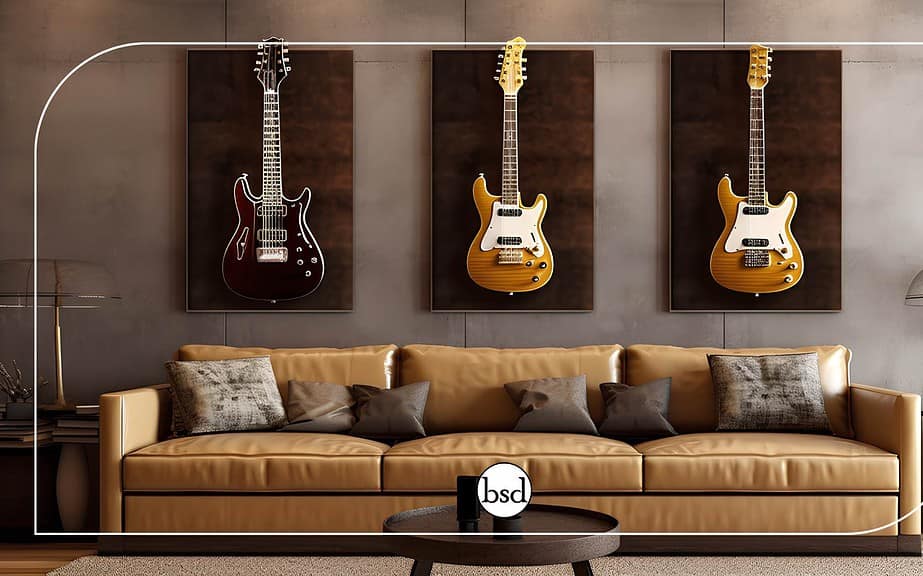 Rooms and Spaces: Game room, home office, dedicated space, home theater, etc.
Now, here's where we venture into the heart of your man cave, designing rooms and spaces that are both functional and fun. Whether it's a game room, a home office, a dedicated sports-watching area, or a home theater, we've got you covered with budget-friendly ideas.
Let's kick things off with the game room. This space can be as simple or elaborate as you want. You could start with a pool or ping-pong table if space allows. You could set up a console with your favorite games if you're a vintage arcade games or video games fan.
Check out online marketplaces or garage sales for second-hand items. Remember, it's all about creating a fun environment that invites you to let loose and enjoy!
Next, let's talk about the home office. If you're working from home or need a dedicated space for your hobbies, carve out a small office area within your man cave. A compact desk, a comfortable chair, and well-placed shelves can do the trick. Keep this space clutter-free to maintain focus and productivity.
How about a dedicated space for watching your favorite sports or movies? A giant screen, a comfy couch, and bean bags can quickly become your favorite place to chill. But, of course, you don't need a brand new giant TV; a good quality second-hand one or a budget-friendly projector can work just as well.
If movies are your thing, why not create a mini home theater? Sound-absorbing wall and ceiling panels, a popcorn maker, and comfy seating can create a cinematic experience right at home. No more expensive movie tickets!
Entertainment: Video games, arcade games, big screens for viewing, etc.
Regarding entertainment in your man cave, the possibilities are endless and can be tailored to suit your interests. Whether you're a video game enthusiast, an arcade game aficionado, or a movie buff, we've got some fun, budget-friendly ideas to turn your space into an entertainment paradise.
This space can be the perfect place for video game lovers to set up their ultimate gaming station. Invest in a comfortable gaming chair to enhance your gaming experience and add a relaxed aesthetic to your space. Of course, you don't need the latest console, either. Often, earlier versions of gaming systems can be just as fun and significantly cheaper.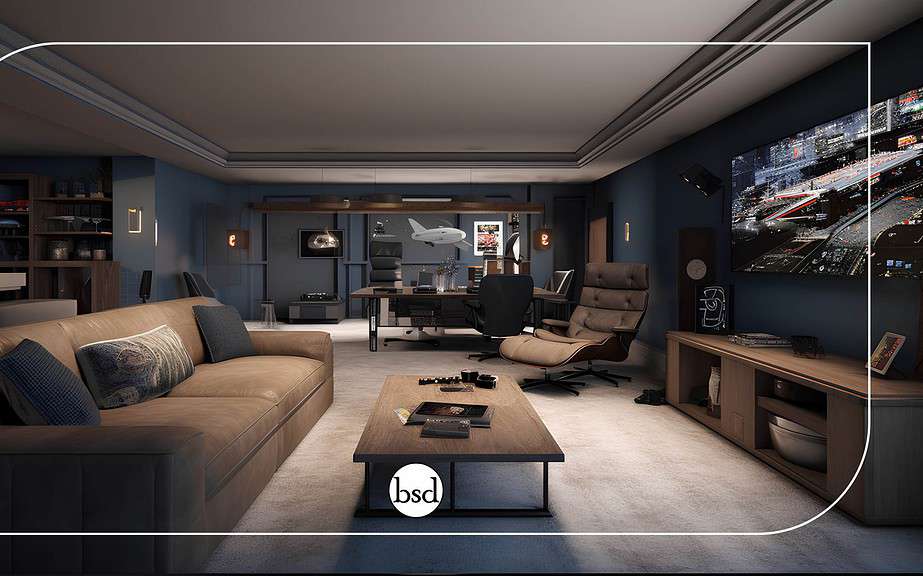 If you have a soft spot for the nostalgia of arcade games, why not introduce a game like foosball or air hockey? Look for second-hand pieces online, or even consider renting. It's all about the friendly competition and the joy of playing!
For those who prefer the big screen experience, setting up a viewing area in your man cave can be a great idea. As mentioned earlier, you don't need a new, giant TV. Instead, a budget-friendly projector can create a fantastic viewing experience for your favorite movies or sports games. Invest in some comfortable seating, and you have your home theater!
An important tip to remember is to manage your cables effectively. A tangled mess of wires can be an eyesore in your entertainment space. Use cable ties or cord organizers to keep things neat.
The goal is to create an entertainment space that you love. It's about creating a haven to kick back, relax, and have fun. So, go ahead and design a space that lets your personality shine!
The Bar Essentials.
Let's discuss the cherry on top of any personal sanctuary project – creating your bar. There's something incredibly satisfying about pouring yourself a drink from your bar right in the comfort of your Personal Haven. So, let's explore some awesome yet budget-friendly ideas to set up your bar.
Firstly, decide on the type of bar that suits your style and space. Do you prefer a traditional wooden bar counter, or a sleek wet bar is more your style? You can even consider a mobile bar cart if you're working with a smaller space.
Don't worry about purchasing brand-new pieces. Online marketplaces or thrift stores can have some excellent finds that need a bit of TLC.
Now, every good bar needs some great beverages. If you're a beer enthusiast, consider investing in a small keg or a mini fridge to keep your favorite brews chilled. For wine lovers, a simple wine rack can be a beautiful and functional addition to your bar area.
In terms of decor, personal touches can make a world of difference. Display your favorite bottles, use unique glassware, or add bar-related memorabilia. Even small details like coasters or bar napkins with a fun design can add a unique flair to your bar.
Finally, remember that a good bar isn't just about the drinks. It's also a social space. Consider adding bar stools or comfortable seating nearby to encourage conversation and camaraderie.
Creating your bar doesn't have to be a bank-breaking experience. With a bit of creativity, you can design a bar that is not only cost-effective but also perfectly tailored to your tastes. Now, it's time to enjoy the fruits of your labor. Cheers to your awesome man cave bar!
Design Elements: How to incorporate various elements to create a cohesive design.
With the bar set and ready, let's move on to the next exciting part of our Guy's Getaway journey – personalizing your space. Your man cave reflects who you are, your passions, and your interests. So, let's dive into some economical ideas for personalizing your man cave with sports memorabilia, vinyl records, and more.
When it comes to sports memorabilia, there's no better way for the sports enthusiast to infuse their space with personality. Displaying cherished items like a signed baseball, a team jersey, or vintage sports posters evokes fond memories and sparks engaging conversations.
You don't have to break the bank to acquire memorabilia. Get creative by utilizing items you already own or printing photos of your favorite sports moments and framing them. These personalized touches can transform your space into a tribute to your sporting passions.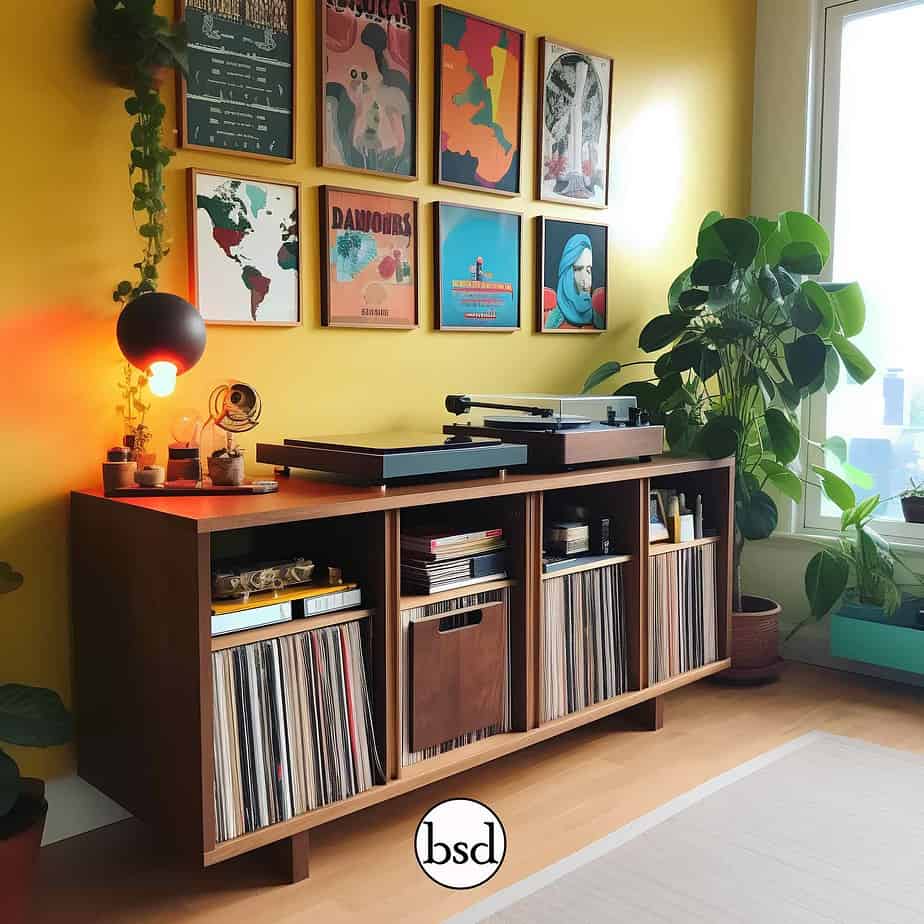 Let's focus on vinyl records, a must-have for any music lover. Not only do they provide an unparalleled audio experience, but they also double as captivating wall art.
Adorn your walls with your favorite records using stylish record frames. Consider dedicating a space for a record player and a compact vinyl collection.
Don't forget to explore thrift stores and yard sales, as they often hide affordable treasures in vinyl records.
Let's focus on vinyl records, a must-have for any music lover. Not only do they provide an unparalleled audio experience, but they also double as captivating wall art. Adorn your walls with your favorite records using stylish record frames. Consider dedicating a space for a record player and a compact vinyl collection. Don't forget to explore thrift stores and yard sales, as they often hide affordable treasures in vinyl records.
Lastly, incorporating your beloved books will create an inviting and cozy atmosphere in your man cave. Whether you opt for a small bookshelf or wall-mounted shelves, they serve as a home for your preferred reads, graphic novels, or biographies.
Remember, the ultimate goal is to curate a man cave where you relish every moment spent. Fill it with items that bring you sheer joy and elo
FAQs