6 Tips on How to Make Your Home Office Look Fun & Professional.
Finding the right balance between work and home life can be challenging when you're a parent working from home. Of course, you want to create a fun and professional-looking environment, but it can be challenging to achieve both goals simultaneously.
These simple home office design tips will add a sense of playfulness to your home office and make it more inviting for you and your kids. For example, adding a few toys or stuffed animals to your desk can help to create a more relaxed atmosphere, and using brightly-colored office supplies will add a pop of fun.
When you create a home office, it is essential to personalize the space and make sure that you enjoy your workspace.
One way of doing this? Perhaps by adding photographs or artwork from family members on our walls!
To give your office desk more character, we recommend choosing pieces that show who YOU ARE, and below are some inspirational ideas.
This post contains affiliate links to products. If you purchase any of these items from my post, I will receive a small commission from the merchant at no additional cost to you.
1. Bring in some fun paint colors.
A home office should be where you can feel productive and motivated. But if your home office is feeling a little lackluster, don't despair. Sometimes all it takes is a few well-placed accessories to give the space a pick-me-up. Look for items like throw pillows, rugs, wall art, or even desk accessories in cheerful shades that will make you smile whenever you see them.
A few pops of color can brighten up any space and help you feel more creative and inspired.
A few well-placed accessories in fun colors can brighten up any space. Look for items like throw pillows, rugs, wall art, or even desk accessories in cheerful shades that will make you smile whenever you see them.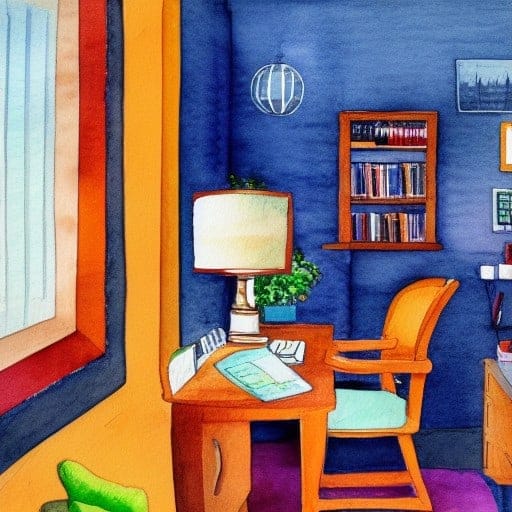 2. Get organized with fun and playful storage solutions.
Anyone who has tried to work from home with young children knows it can be challenging to keep your workspace clean and organized. For some simple storage solutions, try using colorful bins or baskets to store toys. For ideas on styling bookcases and etageres, see this post.
It's easier than ever to keep your office clean and clutter-free while offering your kids an easy way to locate their belongings. They may likewise put their toys away themselves after they've finished playing.
So if you're looking for a way to get more organized, consider using playful storage solutions. They might make your life a little easier. For example, if your kids are always underfoot while trying to work, try using colorful bins or baskets to store their toys.
Not only will this help keep your workspace clean and clutter-free, but it'll also give the kids an easy way to know where their things belong.
3. Make use of natural light.
When we think about making our homes feel inviting, one of the first things that come to mind is natural light.
There's just something so satisfying and calming about being in a space with plenty of windows from which you can see outside while working on projects during those cold winter days!
It makes all kinds of sense why people who live by themselves use them as their primary company source- they're constantly surrounded by such comforting sights no matter what time zone happens.
One of the best ways to instantly make any room feel inviting is to let in as much natural light as possible.
If your home office is on the dark side, try hanging sheer curtains or adding a floor lamp to brighten up the home office.
4. Add Some Greenery to Your Home Office
If you're anything like me, you probably spend much more time at your home office. And if you're working from home, that means your home office is likely getting a lot of use. So why not spruce it up a bit and add some greenery? Not only will it make the space more inviting, but studies have shown that having plants in your office can boost your productivity and creativity.
Here are some classic low-maintenance office plants that are sure to liven up your space:
Snake Plant:
The snake plant is one of the most popular houseplants. The snake Plant, or Dracaena Trifasciata, is virtually indestructible, thrives in low and bright light, and requires minimal care. Plus, it has a modern aesthetic that complements any home office.
Philodendron:
If you're looking for a plant that will actively purify the air in your office, look no further than the philodendron. This tough little plant is known for its ability to remove harmful toxins from the air, making it an excellent choice for anyone who wants to breathe a little easier while they work.
Aloe Vera:
If you're looking for a low-maintenance plant that can also be used for medicinal purposes, look no further than Aloe Vera. This tough plant is native to Africa and thrives in hot, dry climates. In addition, Aloe Vera is easy to care for and only needs to be watered once every two weeks.
The Aloe Vera gel inside the leaves can be used to soothe burns or cuts, making it a great plant to have on hand. Add some greenery to your home office with an Aloe Vera plant and enjoy the benefits of this helpful succulent.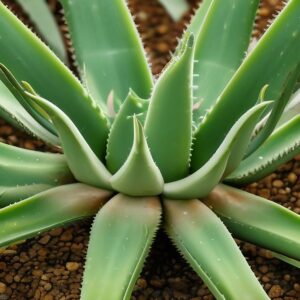 5. Invest in Ergonomic Furniture for a Productive Home Office.
A comfortable home office is a productive home office. If you're spending hours at your desk, you must be comfortable. But comfort isn't the only important factor when setting up your home office.
Ergonomic furniture is vital to preventing injuries and ensuring that your body is adequately supported while you work. Here are a few tips on choosing furniture for your home office that will help you stay comfortable and productive all day long.
Choose an ergonomic chair.
You'll spend a lot of time in your chair, so ensure it's ergonomic. Consider ergonomic features like adjustability, armrests, and lumbar support to ensure that your spine stays properly aligned and supported while you work. And make sure the chair is the right height for your desk; your feet should be flat on the floor with your knees at a 90-degree angle.
Adjust your monitor.
Your computer monitor should be at eye level, so you don't have to strain your neck to see it. Use an adjustable monitor or height-adjustable desk stand to raise it to the proper height.
Eyeglasses:
And if you wear glasses, ensure the prescription is current so you don't strain your eyes to see the screen.
Use an ergonomic keyboard and mouse.
An ergonomic keyboard and mouse can help reduce strain on your wrists and hands while you work. Look for adjustable heights and palm rests to keep you comfortable throughout the day.
Invest in a height-adjustable desk.
A height-adjustable desk is a great way to reduce back pain and improve circulation while you work. In addition, alternating positions between sitting and standing throughout the day will make a long day at the computer much more pleasant.
Ergonomic and comfortable furniture is an investment that will pay off in productivity and comfort in the long run. By setting up your home office with ergonomic furniture, you can create a space that's both comfortable and conducive to getting work done.
6. How to Have Fun with Office Supplies
Is your office starting to feel a little dull? Are you stuck in a rut and looking for ways to spice up your work life? With creativity, you can turn even the most mundane office supplies into something that will make your workday more enjoyable.
Use colorful tape to add some personality to your space. Don't be afraid to get creative with this one! You can use video to make patterns on your walls or desk or even use it to hold up pictures and posters. The possibilities are endless!
Turn boring white envelopes into something special with some washi tape. Washi tape comes in all colors and patterns, so you can let your personality shine with this one. Just pick out your favorite design and start decorating!
Add some flair to your pencils with some patterned washi tape. This is a great way to show off your unique style and a fun way to personalize your workspace. Simply wrap the tape around the pencils until they're completely covered, then trim off any excess. Voila! You've got yourself a stylish new set of pencils.
Give your stapler a makeover with some glittery washi tape. This is a great way to add a touch of glamour to your desk, and it's also surprisingly easy to do. Cover the entire stapler with the glittery washi tape, then trim off any excess. That's all there is to it!
Decorate your pen holder with some pretty patterned paper. This is an easy way to add a pop of color to your desk, and it's also a great way to use up any extra scrapbooking paper you might have lying around. Wrap a decorative piece of paper around the pen holder, then secure it with double-sided tape or glue. And that's it—you're done!
With just a little creativity, you can turn even the most mundane objects into something unique that will make your workday more enjoyable. So what are you waiting for? Get out there and start decorating!
Working from home has become the new normal for many of us. And while there are definite perks to trading in our commute for a short walk downstairs, staying motivated and productive in our home offices can also be challenging.
That's why creating a comfortable and inviting home office is essential. A place where we can feel inspired to do our best work. Here are a few tips on creating a home office you'll love spending time in.
Make it Your Own: One of the best ways to make your home office feel comfortable is to personalize it with items that reflect your style and personality. For example, hang art on the walls you love: display family photos or mementos from your travels.
Surround yourself with things that make you happy and remind you of why you're working hard in the first place.