Looking to spruce up your home or step into the future of interior design? Interior design trends 2023 are about creating a space uniquely yours, so don't be afraid to think outside the box!
Amp up your home with bright colors and bold design elements while still having the comfort of warm neutrals throughout the house. Practical design details like smart storage solutions will keep things organized while glamorous additions like eye-catching art pieces, oversized mirrors, or statement wallpaper.
Get inventive and show off your interior design skills this season – it's a perfect time to think outside the box and bring that magic into your home!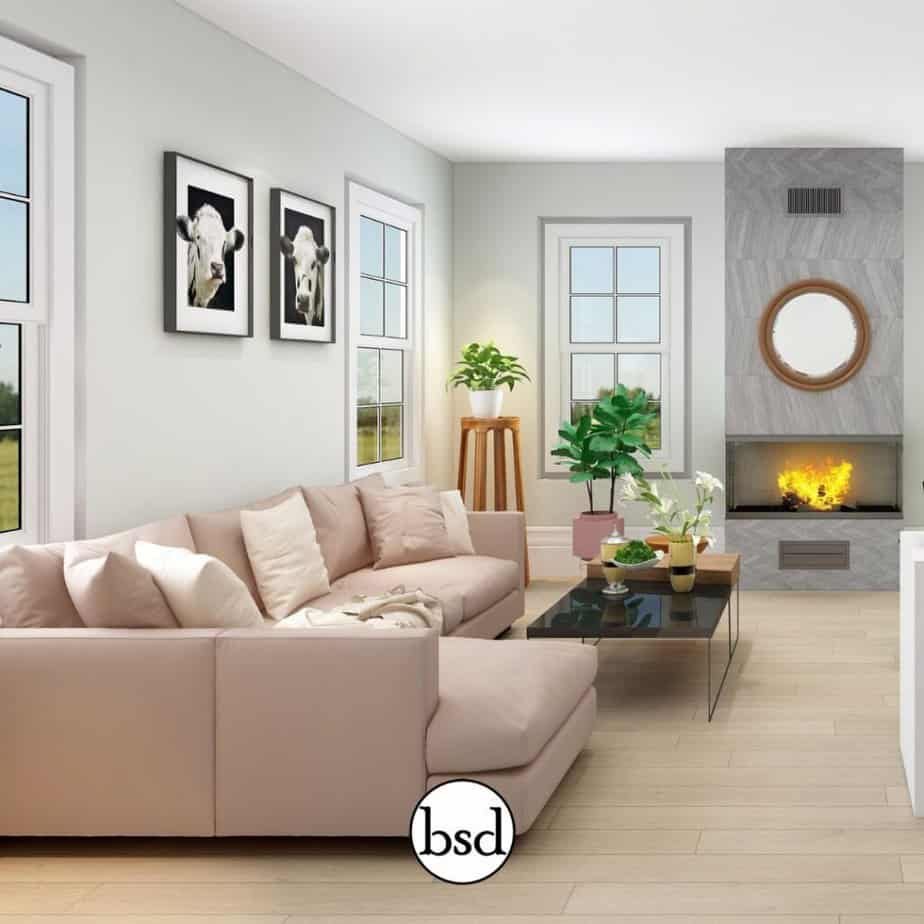 Disclosure: This post contains affiliate links to products. If you purchase any of these items from my post, I will receive a small commission from the merchant at no additional cost to you. This post and images may include content partially written/created by AI.
1. Eclectic Modern:
As minimalism continues to be the top interior design trend, many homeowners are combining elements of both classic and modern style design ideas for an eclectic modern look that can bring character and personality into a room.
Bold colors and antique or vintage pieces or natural textures create a unique, personal style. It is an approach to home décor that emphasizes blending different elements to create a new, eye-catching look. The Eclectic Modern style features old and new design elements, mixing traditional furniture with modern art and lighting fixtures.
2. Maximalism:
Step into the limelight and embrace the era of Maximalism in home décor! While minimalism has reigned supreme for years, it's now time to celebrate the vibrant and exuberant world of Maximalist interior design.
This awe-inspiring approach to home décor is all about infusing spaces with boundless flair and unparalleled personality. Prepare to be captivated by a symphony of vivid colors, intricate patterns, ornate furniture, and luxuriously layered textures that create interiors that demand attention and admiration.
Maximalist décor fearlessly pushes the boundaries of home decorating trends and furniture design, taking each element to extraordinary heights. Get ready to indulge in a feast for the senses and unlock a whole new level of expressive and unforgettable spaces. It's time to let Maximalism steal the show!
3. Boho Luxe: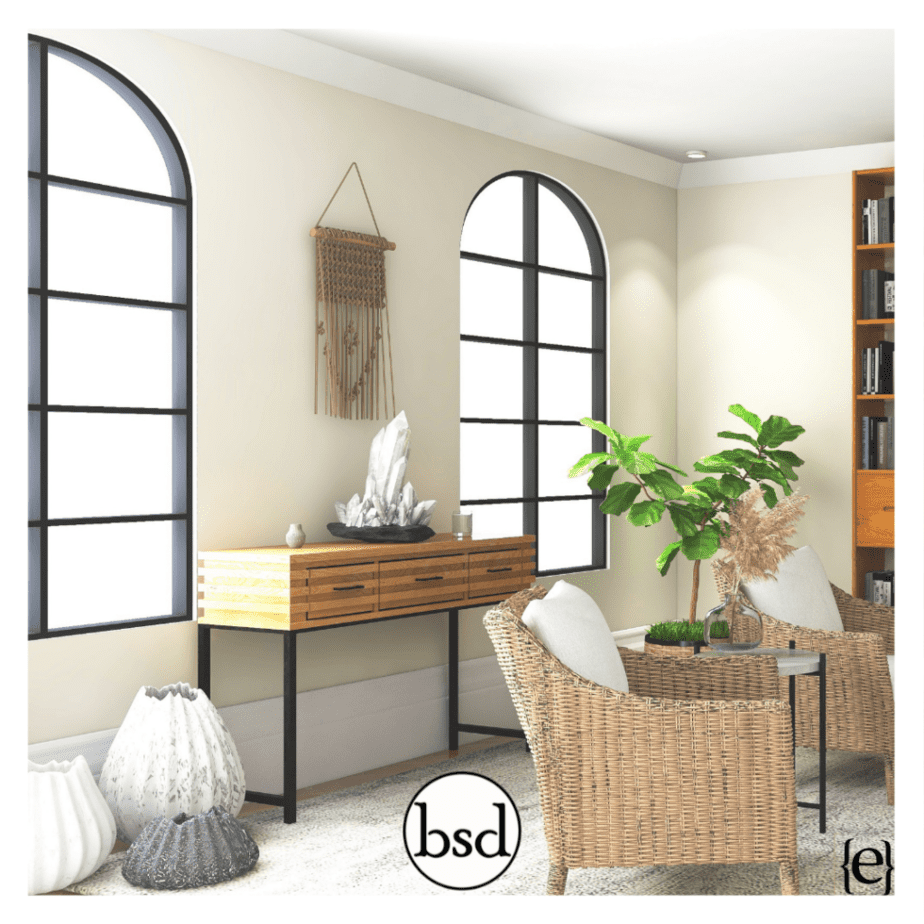 BoHo Luxe is the perfect combination of comfort and luxury.
This fun trend brings all the elements of boho living together with luxurious materials for a unique spin on comfort-driven style.
Combining elements from the Boho Style, such as natural textiles and light wood furniture pieces, with luxurious materials such as wool and cotton creates a unique look that's both stylish and cozy.
Textures are added through wicker and raffia accents to complete this glamorous yet relaxed design trend.
4. Earthy Neutrals:
Natural tones have become a staple in interior design, and this trend shows no signs of slowing down. Earthy hues such as olive greens, taupes, and creams create an inviting, calming, and comforting atmosphere.
Neutral doesn't have to mean boring! We're seeing plenty of muted tones on walls paired with unique wood furniture pieces crafted from sustainable sources — think cherry, walnut, white oak, and ash — along with greenery throughout the space to add life and energy to an otherwise neutral room.
These shades are perfect for creating a cozy space with plenty of character.
5. Mid-Century Mixed Media:
Mid-century style is forever chic and modern! To bring this look into the design trends 2023 home, opt for furniture pieces that combine multiple materials – such as wood and metal – and introduce pops of color using vibrant wall art or statement rugs.
This mix-and-match approach to décor creates an eclectic yet timeless look that stands out from the crowd. Don't forget to incorporate natural elements, like plants or organic materials, to bring texture and life into the room. Whether you are looking for a statement piece of furniture or an accent wall to draw attention, mid-century mixed media is the way to go.
6. Handmade Decor:
For those genuinely looking to embrace a one-of-a-kind style this upcoming year, handmade decor is where it's at!
From pottery vases made by local makers to vintage handmade quilts found at flea markets turned into wall art – there are endless possibilities to unique curate designs inside your home from these handmade finds!
7. Natural Textures & Organic Patterns:
To create relaxed yet sophisticated spaces, they incorporate organic shapes, textures, and materials into their designs for an easy yet sophisticated atmosphere.
Sustainable fabrics, jute rugs, woven baskets, or macrame artworks can help soften the environment while adding a layer of intriguing charm.
It's all about creating spaces that balance comfort and style! These elements soften spaces while providing depth and interest.
8. Curved Furniture:
We've seen plenty of curved furniture throughout 2022, but the trend will continue into 2023! Whether you're looking for a statement piece like a mid-century modern living room sofa or something more subtle like a curved bar cart, adding curves to your space can create visual interest and soften straight lines. Curved furniture is a great way to add a touch of modern elegance to any room.
9. Statement Lighting:
Consider statement lighting if you want to add something special to your interior design in 2023. These eye-catching pieces can make all the difference in a room, acting as an instant conversation starter and offering an unexpected twist.
The possibilities are endless, from sculptural chandeliers that can act as a central focus point to geometric or organic floor lamps with intricate patterns.
Don't be afraid to make a bold statement – this is your chance to let your inner interior designer shine! So don't downplay the importance of statement lighting for making a statement – get inspired and choose one which speaks to your decor style.
10. Smart Home Technology:
Dive into the world of smart home technology, and you'll find endless possibilities! Smart home technology can make your living space more secure, energy efficient, and comfortable while saving money.
From voice-activated assistants to lighting systems accessible through your phone, there's something out there that will work with any lifestyle. So take advantage of all these opportunities, and create a modern living space that works for you.
With the right tech in place, rest assured your lovely home will be taken care of even when you're away. Smart security systems, doorbell cameras, and motion detectors are just a few options for keeping your home safe.
Energy-saving products like programmable thermostats can help you save money on bills while maintaining a comfortable temperature in your home. And convenient features like automated lighting and appliances can be managed with a button, giving you more time to spend on the things that matter most.
Smart home technology is revolutionizing how we live, with possibilities extending far beyond convenience and safety. Explore all the options available to see what works for you. You'll be amazed by how much smarter your home can be.
11. Monochromatic Palettes:
Monochromatic color palettes are a great way to upgrade your home decor's look instantly. Done right, it looks contemporary yet timelessly elegant.
Using shades within the same range, such as off-white, and creamy browns, to darker hues, such as bronze, can give any room an elegant and timeless look. If you want to add more energy and make your interior stand out, adding a few pops of brighter accent colors like red or turquoise can be a great way to achieve this.
Creating a monochrome design for your home doesn't have to be complicated – it's all about working within the same color palette but adding subtle variations in tone and shades to give it depth and movement. With just a few carefully chosen colors, you can craft a unique and inspiring monochrome design that will last for years.
Following tips, you can create the perfect monochromatic palette for your home. Start by selecting two to three shades in the same family, such as off-white and cream or gray and charcoal. Then, add subtle variations in tone with highlights of brighter accent colors and textures like velvet or leather.
Finally, combine all your colors and textures for a contemporary yet timeless monochrome design.
12. Bold Accents:
Adding bold interior design accents to your space is an easy way to inject color and personality.
Start by selecting hues that naturally complement each other and consider different textures. Adding vivid color to a room creates an inviting atmosphere and can also help tie together previously contrasting elements.
Consider furniture, rugs, art, or accessories that stand out as statement pieces in a room. The key to finding statement pieces that work together is choosing colors that complement each other – this will impact the space's overall aesthetic.
Whether it is one eye-catching piece such as artwork or multiple details around the room, don't be afraid to take risks with interior design accents; even the subtlest effects can be striking!
13. Biophilic Design:
Biophilic design is rapidly becoming one of the most popular interior trends. It emphasizes the importance of bringing nature into our homes to create a more harmonious and balanced environment.
By introducing natural materials such as wood, stone, plants, and greenery into our home design, we can tap into our inherent connection with nature and use it to brighten and enrich our living spaces.
This trend speaks to our longing for connection with the natural environment while providing visual interest, texture, warmth, and color.
Biophilic design principles in your home decorating can help bring balance, beauty, and a sense of well-being into any interior. In addition, biophilic design is a great way to get the outdoors in, from incorporating plants and flowers to displaying natural materials such as wood and stone.
14. Sustainable Design:
Sustainable design is about conscious choices that benefit the environment in a mindful way of both current and future resources. It focuses on reducing waste, reusing materials whenever possible, and creating healthier and more efficient interior designs.
It's a great way to reduce environmental impact while creating aesthetically pleasing, highly functional spaces. Sustainable design can also help create healthier indoor environments by improving air quality and limiting the use of toxic materials.
When incorporating sustainable design principles into your home decorating, look for ways to include recycled or upcycled materials. Choose products that are energy efficient, and think about how you could make your home more sustainable in general with improved insulation, ventilation, natural lighting, and other eco-friendly features.
Final Thoughts:
Transform your home into a beautiful, sustainable sanctuary with the newest interior design trends of 2023!
Sustainable design principles can help you create a stylish yet eco-friendly space while reducing environmental impact. Get creative and explore what you can do to improve your home.